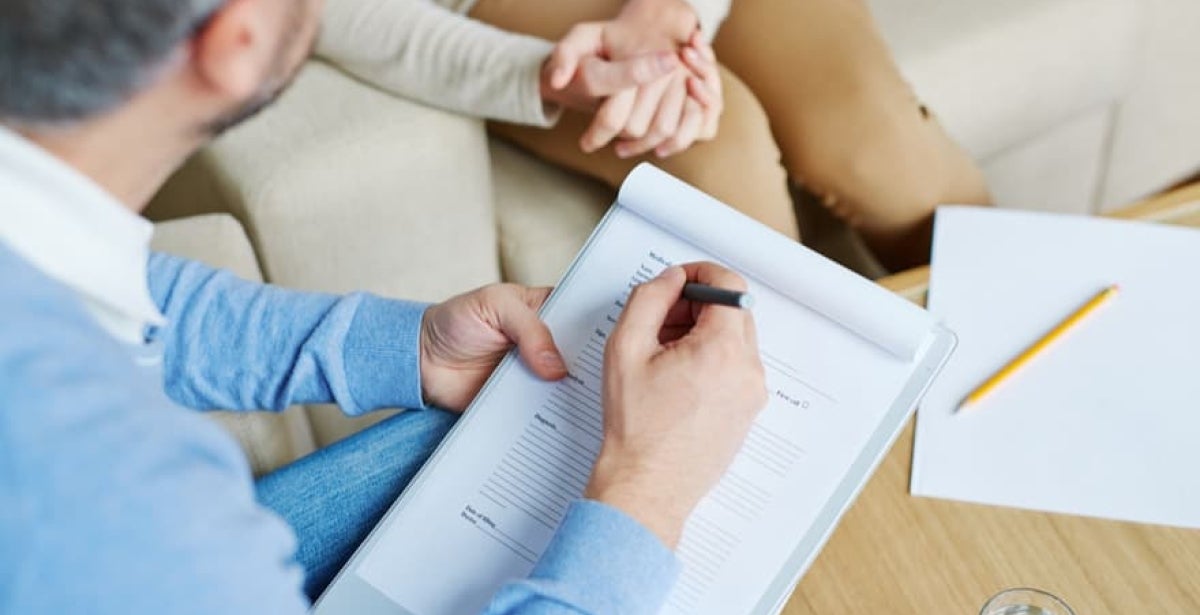 Benefit Rich: The Rewards of a Career in Counselling
Everyone should be fairly compensated for their work. But when you do a job that you love, money is just one of many rewards.
If you're considering studying for a career in counselling, you're probably caring, personable and empathetic, and you want to make a positive change in the world. Being a counsellor fulfils all of these aims, earning you benefits that go way beyond the financial.
Additionally, counselling is a stimulating career that involves you finding bigger-picture solutions.
You get to work with people from all walks of life – perhaps supporting them with post-pandemic mental health or trauma healing. Or maybe you want to use the skills you learn in your current role to maximise your career development opportunities. Either way, the rewards and sources of satisfaction are many and varied.
But let's begin with the most pragmatic aspect: money.
How much do counsellors earn?
The average income for a counsellor in Australia depends on their:
Level of experience
Qualifications
Area of specialisation.
It also depends on whether they work for an organisation, or run a private practice.
Present rates for full-time counsellors typically range from $82,850 for an entry-level position to $112,960 for those with more experience. Overall, the average salary for a counsellor is $92,813. Interestingly, this is slightly higher than the overall average Australian income, which is approximately $90,300 per annum.
Another factor that will affect your salary is your work location: different cities and regions offer different average salaries. The highest-paying capital cities in Australia are:
Canberra at $86,659;
Perth at $84,592; and
Sydney at $82,060.
But don't assume that you need to work in metropolitan areas to earn a living. There's also a lot of demand for workers in remote, rural areas since there are fewer qualified counsellors in those locations. For example, working in Katherine in the Northern Territory or the Gold Coast in Queensland will both earn you around $83,000. That's higher than the Sydney salary.
Some specialised areas of counselling, such as school counselling in regional and remote areas, can also attract government incentives.
How qualifications affect your salary
In Australia, counselling and psychotherapy are unregulated professions, so it's possible to practise with no training or skills. However, to provide some oversight, states including NSW, Victoria, Queensland and South Australia require counsellors to comply with a code of practice.
You can demonstrate that you're complying with the code by becoming a member of either:
the Australian Counselling Association (ACA); or
the Psychotherapy and Counselling Federation of Australia (PACFA).
Being a member of either organisation will greatly enhance your ability to get a job: a key consideration when you're looking at salary prospects. It will also help to ensure that you have adequate training, as both memberships require a level of qualification.
ACA membership
The ACA offers a tiered membership, including a student membership.
To hold a Level 1 Membership, you'll need to graduate from an ACA Accredited Course of study and complete, at minimum, a diploma-level qualification in Counselling.
When you graduate with a Master of Counselling from ECU, you will be eligible for a Level 2 Membership, to help streamline your progression within the association.
PACFA membership
To become a member of PACFA, you'll need to meet the following training standards.
Have completed a course at AQF Level 7 (bachelor's degree) or above;
Have been studying for two or more years;
Have completed a minimum of 400 hours of live instruction within the course in a counselling/psychotherapy-specific subject, in which;

at least 140 hours of the 400 were face-to-face and in-person;
you completed a placement with a minimum of 40 hours of client contact, 10 hours of which were supervised.
How long does it take overall to qualify in counselling?
If you're switching careers from a completely different field, you might wonder just how long it will take to become a counsellor, therapist or counselling psychologist.
If so, your first step is to complete a Graduate Certificate of Counselling, which takes six months part-time. You can then go on to complete a Master of Counselling in as little as two years.
Alternatively, you can enrol straight into a master's degree with ECU Online. Our Master of Counselling includes the same three units that make up the graduate certificate, so you can complete them as you gain your master's degree.
Different types of mental health professionals
Mental health professionals include both counsellors and psychologists, as well as psychiatrists, mental health nurses and social workers.
Counsellors help people overcome difficulties in life such as grief, relationship breakups or financial stress. By guiding a client through their problems, a counsellor helps them understand their behaviours and emotions.
Meanwhile, if a client experiences a complex mental health condition, a counsellor may refer them to a psychologist. These professionals are qualified to evaluate and diagnose a patient's mental health and can administer therapeutic care and treatment.
They might also undertake research in an academic environment.
Becoming a registered psychologist takes a minimum of six years of education and training.
Some people prefer to choose a counselling career instead of becoming a psychologist because:
It requires fewer years of study to get into the profession.
The generality of the role makes it a good starting point if you're still deciding on which career path to specialise in.
The approach is broader, often more person-centred, and is less clinical, which can suit some people better.
The benefits of being a counsellor – it's not just about the money
While there's no shame in expecting a fair salary for the work they do, many people decide to become counsellors for the non-monetary benefits. Here are just a few of their reasons.
1. Working with people from all walks of life
Mental health issues are widespread in our society. As a counsellor, you'll inevitably encounter people who have lived a very different life to you. Working with them can be a valuable opportunity that you don't encounter in many professions.
Often, the issues you help them with will relate to broader systemic societal problems. Helping anybody is satisfying, but helping people from vulnerable or disadvantaged backgrounds can be especially rewarding as you contribute to broader change.
Of course, crisis and trauma don't discriminate. They can happen to anyone. And knowing that you're helping people address painful life experiences, perhaps even setting them on a healing pathway, is deeply rewarding.
Additionally, having a broad client base is educational and can help your personal worldview to change and evolve. It can help you understand how modern society functions and the part you can play within it.
2. Being a part of society's post-pandemic healing
We know that mental health challenges are common in Australia, and COVID has created an even greater need for mental health support, which we discovered in our research into unemployment and mental health during the pandemic.
This increased need spans all age groups and covers everything from the isolation of lockdown through to fear and stress around employment insecurity.
It's no surprise then that the pandemic has created an increased demand for counselling in people of all ages.
Playing a part in the healing process can create immense job satisfaction.
3. Knowing you're contributing to a more positive future
Working as a counsellor means becoming part of a greater solution – it's a long-term investment in building a better world. The beauty of counselling is that you can identify your particular interests – the area you most want to make a difference in – during your early training. Then you can specialise in that area through job placements.
For example, you may want to focus on early intervention as a school counsellor. Knowing that you're helping develop a healthier, happier and more resilient generation is gratifying.
Or you may prefer the satisfaction of guiding someone through healing from trauma. Then, once they've healed, you will know they'll pass those benefits on to those around them, including their children.
Another option might be helping essential workers to carry out their challenging roles in our society. Maybe you could support ambulance workers or police officers — Police Health has partnered with both ACA and PACFA to enable exactly this.
Whichever path you choose, you'll provide far-reaching benefits and contribute to positive change.
4. Pushing yourself in a dynamic and stimulating role
Counselling is, at times, a challenging role that can present a range of complex issues. But the counter to this is the knowledge that you'll be excited about coming to work every day.
Another, possibly underrated benefit is that a career in counselling encourages you to pay special attention to your own self-care. ECU's 100% online Master of Counselling will teach you techniques and skills in reflective practice, so you can protect your personal wellbeing.
Plus, you can always apply the skills you gain as a counsellor in your personal life. You will hone your communication skills, particularly around sensitive topics. As a result, you'll be able to build and maintain better relationships, and generally navigate life's challenges more smoothly.
5. Maximising your career options with transferable skills
Finally, training to be a counsellor is an effective way to expand your horizons.
Once you complete your Master's degree in counselling, you can use the skills you've learned to either:
Develop within your current career path.
Change careers and begin working as a counsellor in a clinic or other setting.
Build your own business or private practice.
Is being a counsellor a good match for me?
Most people go into counselling for reasons beyond the financial incentive. If you're naturally empathetic and want to contribute to the greater good, counselling can be a fulfilling role. Beyond this, its foundation in problem-solving can create the satisfaction of contributing to better outcomes.
However, you'll need to feel comfortable about dealing with challenging issues as well as accepting and adapting to the needs of diverse communities. This can require you to be level-headed and patient, but with the right training, you'll develop all the skills you need to excel in the job.
Start your career as a counsellor now
A counselling career offers many rewards. If the financial compensation suits your lifestyle and the broader benefits are a good fit for your personality, now could be the time to take the next step.
ECU Online's Master of Counselling is an accelerated online course. That means you can complete it in just two years, and take advantage of the growing employment opportunities sooner. We have study intakes in January, March, May, July, September and November, so it's always a good time to apply.
Our Student Enrolment Advisors are available to talk through any questions you might have. You can reach out via phone on 1300 707 760 or email future.student@studyonline.ecu.edu.au.