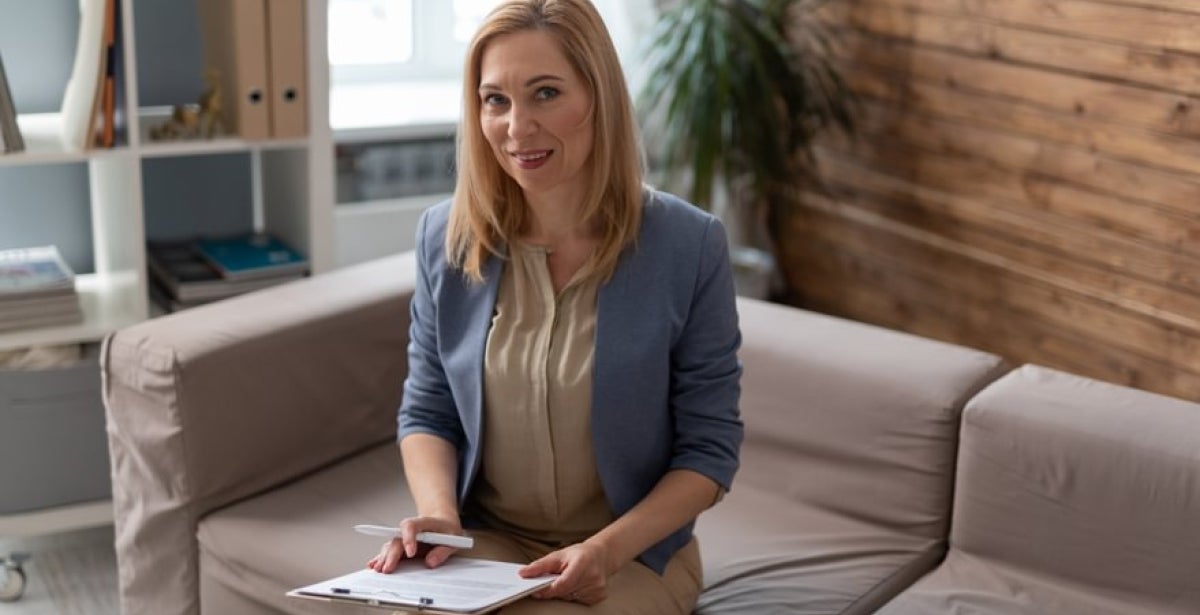 What is the Difference Between Counselling and Psychology?
Please note, this article includes content which may be distressing for some readers. Links for mental health support and resources can be found at the bottom of this page.
Throughout our lives, we need various levels of support. In some cases, this support comes from within our network of family and friends, and at other times, it involves seeking professional help.
While visiting a doctor for physical health problems is considered the norm, choosing to see a counsellor or psychologist to assist with mental health, guidance and empowerment can often be misunderstood.
As a society we are educating ourselves more and more on the importance of mental wellbeing. But the question is still pertinent: What is the difference between counselling and psychology?
Associate Professor Melissa Davis has shared her insights into the difference between these two fields and also the study options available to make this your career. No matter which area you are interested in, ECU offers a Master of Counselling and Graduate Diploma of Psychology to help you reach your goals.
What is the difference between a counsellor and a psychologist?
While both disciplines help individuals with their mental wellbeing, the roles, study pathways and job opportunities are quite different.
What is psychology?
Psychology is the scientific study of human behaviour. It applies to the understanding of all kinds of human behaviour, such as:
Child development and learning
Memory and how people think
People's behaviours in group settings
Psychology is also about psychological disorders and their treatments. Associate Professor Davis explains that while psychology students "do learn some skills that are applicable to counselling, counselling skills are not the core focus of psychology qualifications".
The professional abilities of a psychologist extend into complicated aspects of mental wellbeing, including the ongoing management of mental health disorders. In this respect, "the title of 'psychologist' is a protected one in Australia. Only people who have completed the required training and supervised practice, and are registered by the Psychology Board of Australia, may call themselves a psychologist", reports Associate Professor Davis.
Psychologists often work with clients in clinical settings to assist with complex mental health issues. They can use evidence-based therapies, such as cognitive behavioural therapy or interpersonal psychotherapy.
The role of a psychologist is not only to assist those diagnosed with mental illness. They also work with healthy people to help them with social processes, behaviours and cognitive abilities. A sports psychologist, as an example, will help athletes to achieve their full potential and overcome any concerns. Clients are often referred to a psychologist by their general practitioner, and some clients may have access to a Mental Health Treatment Plan.
To practise as a psychologist, you'll need:
To have completed at least six years of full-time study (or equivalent).
Gained registration with the Psychology Board of Australia.
There are a few different pathways towards becoming a psychologist in Australia, so it is important to choose the option that best suits your needs.
How much can psychologists earn?
The average annual salary for a clinical psychologist in Australia typically ranges from $100k to $115k. This figure is likely to vary depending on the years of experience they have accumulated, as well as the location of their practice.
What is counselling?
Unlike registered psychologists, the title of 'counsellor' is not protected in Australia. "This means that people who work as counsellors may have different backgrounds and qualifications," says Associate Professor Davis.
Counsellors may offer one-on-one sessions or group sessions. It's sometimes referred to as seeking guidance through discussion, or talking therapy, because counsellors listen to their clients discuss issues and feelings in a safe environment. They then guide those clients to practical solutions, including:
Coping with grief
Improving communication skills
Building their conflict resolution skills
Helping to identify solutions when making important personal or work-related decisions
Increasing confidence and self-esteem
Dealing with relationship challenges
While there is no mandated qualification or learning requirement in Australia, a counsellor with a degree is more likely to have greater job opportunities. Ethical counsellors will be registered with one of the following organisations, which require specific training and moral standards:
How much can counsellors earn?
In Australia, the average salary for a counsellor ranges from $85,206 - $92,813 per year, equalling an approximate hourly rate of $47.60.
While counsellors typically earn less than psychologists, their salary will also be determined by their experience level. Entry-level counselling positions often start at $82,789 per year, while most experienced workers can make up to $112,499 per year.
Want to know more about counselling salaries in Australia? Read more on our blog about the rewards of a career in counselling.
The key difference between counselling and psychology
Both psychology and counselling are rewarding career options, but there are several differences between the two disciplines:
Psychologists are highly regulated compared to counsellors.
GPs can refer patients to a psychologist through the use of a Mental Health Treatment Plan, which is eligible for some Medicare rebates.
The costs of seeing a psychologist and a counsellor can differ quite substantially.
Becoming a psychologist requires specific qualifications and registration, while a counsellor is not required to have a particular degree or registration.
How do I start a career in psychology or counselling?
Having a psychology or counselling degree will help you set the foundations for career success. It will also open your eyes to different psychology and counselling delineations that you may not have explored.
A common misconception is that anyone who studies psychology or counselling needs to work within that discipline. In fact, many psychologists and counsellors use their training and expertise in various fields. Having a strong understanding of mental health and wellbeing gives you the greater capability to manage teams, empower employees and guide business decisions, no matter your industry.
What qualifications do I need to be a psychologist?
The traditional pathway for a psychologist is to start with an undergraduate degree in psychology and then move on to postgraduate studies. While this is a popular option, there are also other flexible ways to earn a degree that will still prepare you for a career in psychology.
For those who don't have an undergraduate psychology degree, ECU offers an accelerated online Graduate Diploma of Psychology which can provide you with:
A postgraduate qualification which is the equivalent of a bachelor's degree with a major in psychology.
A pathway to the Graduate Diploma in Psychology (Advanced), which will make you eligible to apply to continue your studies in a Master of Psychology course.
This diploma is made up of eight units and requires at least 16 months of part-time study. The benefit to this flexible course is that there are several intakes throughout the year, allowing you to start your studies at your convenience. It's also 100 per cent online, which allows you to study anywhere, anytime.
Career options for psychology graduates
The most common career pathway for psychology graduates is to become a registered psychologist. This requires at least six years of study.
The expected job growth for clinical psychologists in Australia is 22.8 per cent over the five years to 2027. This is with an average salary of $110,000 per year.
But becoming a psychologist isn't the only reason why people study psychology online.
Graduates can use the skills and knowledge gained in ECU Online's psychology degrees to work in other human-centred roles, such as:
Mental health
Research
Education
Marketing
Human resource management
Healthcare
What qualifications do I need to become a counsellor?
ECU Online offers a Master of Counselling qualification that could open up your career opportunities. There are many reasons to study counselling.
ECU's online Master of Counselling is accelerated and also includes a three-day intensive and placement program so you can apply your skills in person. It has six intakes each year, which allows you to study wherever you want, at a time convenient to you.
The Master of Counselling takes at least 24 months of part-time study to complete, with 11 units required to graduate.
It also includes a placement component, so you can put theory into practice and prepare for a counselling career after graduation. Georgina Akers, course coordinator of the online Master of Counselling, says "this aspect of the master's degree is aimed at developing the full identity and competence of the counsellor." You can learn more about counselling placement FAQs on our blog.
Career options for counselling graduates
Counselling has a 14.5 per cent projected job growth over the five years to 2027. A typical salary for counsellors in Australia is $85,000 per year.
A postgraduate degree is a great way to become a counsellor in Australia. And there are many other counselling career options available to you upon graduation.
Career opportunities include:
As a school counsellor.
A role in mental health and community services.
A counsellor for a prison or correctional facility.
Remote and online counselling.
Applying counselling skills in your current industry, from human resources to healthcare.
Counsellor vs. psychologist: which one is in demand?
Both counsellors and psychologists are human-centred professions. While the pathways to counselling and psychology are different, they both play an important role in our community.
Understanding mental illness is an important part of each role, particularly as a National Survey of Mental Health and Wellbeing estimated that:
About 46 per cent of Australians aged 16 to 85 had mental health issues at some point during their lives.
One in five of those Australians had symptoms during the 12 months before the National Survey.
For Australians aged between 15 and 49 years of age, suicide was the main cause of death in 2019. These statistics from the federal government highlight the importance of having qualified psychologists and counsellors in our communities.
There is no one answer to which career option is best. Psychologists use a range of evidence-based treatment approaches that are tailored to fit the specific client and their circumstances. A counsellor will look at the long-term approach, listening to the client and giving guidance and understanding to help them learn and discover ways of managing and solving their problems.
Counselling vs. psychology: which one is best for you?
Regardless of whether your interest lies in psychology or counselling, ECU Online has a variety of options to help you make the right decision for your career.
A Master of Counselling gives you the opportunity to practice your newly learned skills on placement. It is also accredited by the Australian Counselling Association.
If psychology is what you're looking for, ECU Online offers a Graduate Diploma of Psychology which can be your first step towards becoming a registered psychologist and a pathway to further study.
Upon successfully completing that degree, you can continue your studies with ECU's Graduate Diploma of Psychology (Advanced) which is the next step towards becoming a registered psychologist.
Studying your degree online gives you accessible, flexible and accelerated learning, without having to interrupt your career or family commitments. You'll also have the support of an online community and a Student Success Advisor to help guide you through your studies.
Want to know more? Reach out to one of our Student Enrolment Advisors on 1300 707 760 or email future.student@studyonline.ecu.edu.au.
If you or someone you know needs support, you can find help from the following services: