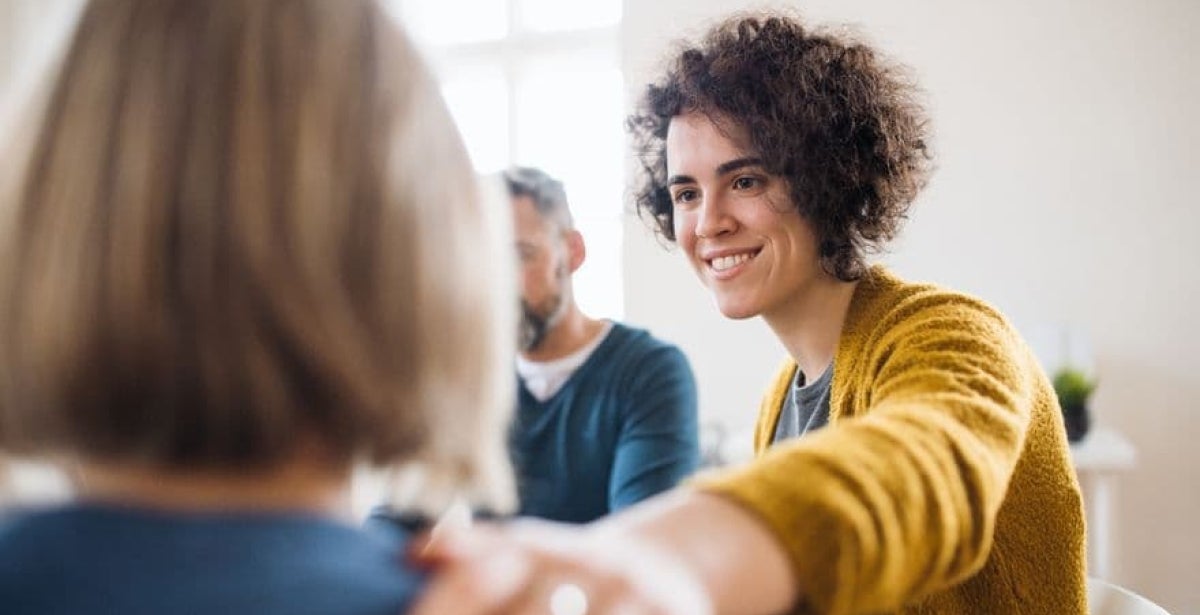 Unemployment and Mental Health During Covid-19
In September 2020, Australia's unemployment rate hit 6.9% as another 29,500 people were out of work (including over 20,000 full-time jobs and more than 9,000 part-time jobs) [source]. The pandemic recession caused by COVID-19 is a global concern, and in Australia, the impact has affected younger employees and women at a higher rate than others. Even more than those out of work completely, underemployment in Australia increased in October to 11.4%, leaving millions without the means to properly support themselves or their family.
The financial consequences of being unemployed (or underemployed) during a global pandemic aren't the only negative impacts people may be experiencing. In a broader context, employment gives us a sense of meaning and purpose, self-esteem and connection to our communities. Combined with the isolating effects of the pandemic, losing a job can also mean losing so much more than income.
To better understand the correlation between unemployment and mental health and wellness during COVID-19, we surveyed over 1,000 people across Europe, the U.S. and Australia, both employed and unemployed to compare their responses. Read on as we explore who has been most susceptible to mental health consequences during the pandemic, the symptoms different generations are experiencing and the habits they may be forming due to prolonged unemployment. 
It's clear that the COVID-19 pandemic has highlighted the need for greater mental health support across all areas. If you are passionate about making a difference to individuals, families and communities, ECU's online Master of Counselling will give you tools that you can apply to a range of settings. To learn more, call us on 1300 707 760 to speak with one of our Student Enrolment Advisors.

Assessing moods during COVID-19
Among the more than 1,000 people polled, 56% of those who lost their job during COVID-19 were still unemployed. Among those without work, 36% acknowledged their mental health had declined due to joblessness and 25% rated their mental health as "poor."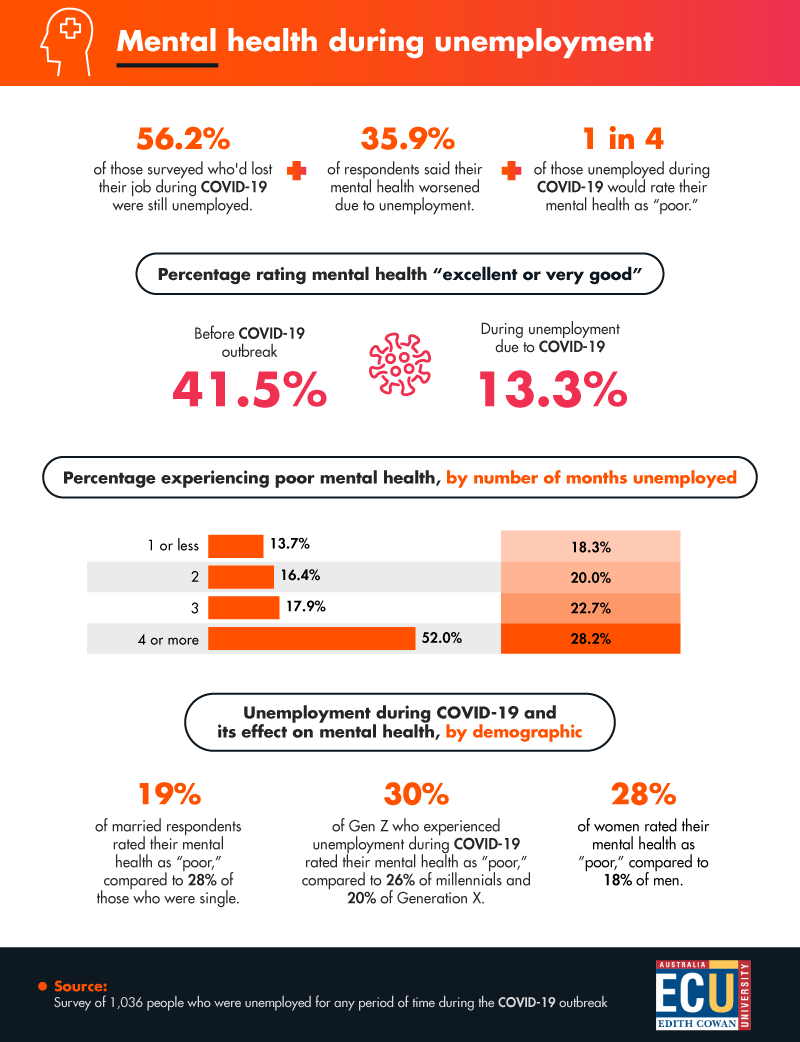 Before the COVID-19 pandemic began, 42% of respondents indicated their mental health was either excellent or very good. In contrast, just 13% of respondents had the same positive outlook on their frame of mind while unemployed as a result of COVID-19. 
Perhaps one of the biggest triggers of their declining mental health has been financial concerns. We surveyed respondents about their financial stress caused by unemployment and here were the biggest takeaways:
Seventy-seven percent of unemployed respondents said their financial stress had increased, compared to when they were employed.
Women (79%) were more likely to experience financial stress than men (73%)
As we found, the likelihood of experiencing poor mental health expands greatly as people spend multiple months without work. Unfortunately, more than half of our respondents were unemployed for 4 months or longer. 
The manifestation of poor mental health
In 2020, women who were unemployed due to COVID-19 were more susceptible to the mental health consequences of being out of work versus men.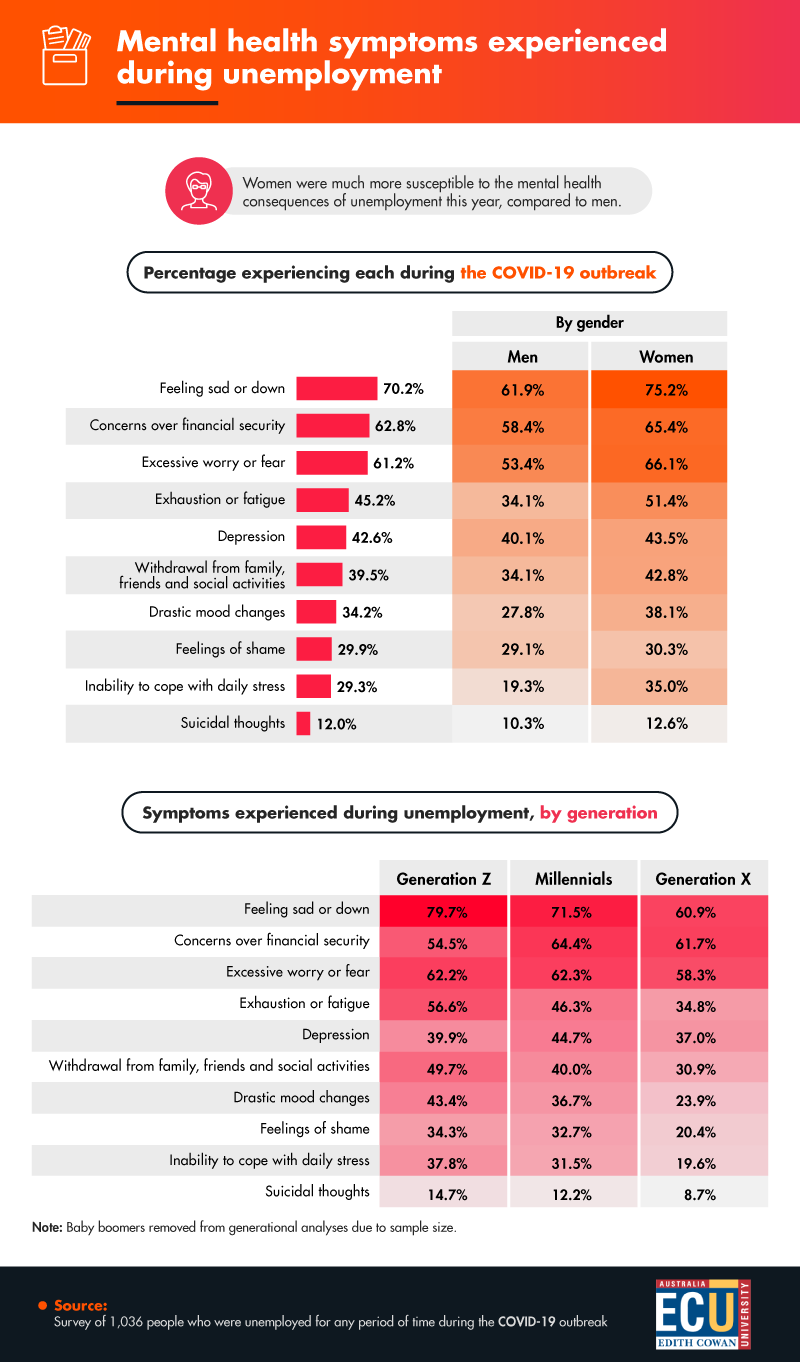 Among those who lost their job during the pandemic, many reported feeling down (70%), concerned for their financial security (63%), excessively worried (61%) and exhausted or fatigued (45%). Among each of these emotional strains, we found the mental health impacts of unemployment were higher among women than men. Women were 13 percentage points more likely to feel sad or down, 16 percentage points more likely to say they couldn't cope with daily stress and 17 percentage points more likely to feel exhausted or fatigued. Working mothers struggled during the pandemic as they attempted to balance their work and home life, forcing many women to exit the workforce entirely. 
Millennials were the most likely generation to have fears for their financial security following COVID-related unemployment, but Generation Z respondents were more likely to report feeling sad or down (80%), exhaustion or fatigue (57%), drastic mood changes (43%) and feelings of shame (34%). Gen Z respondents were also the most likely to report having thoughts of suicide (15%), compared to Millennials (12%) and Gen Xers (9%). 
Picking up bad behaviors
Without the structure of regular work, many unemployed respondents reported picking up poor habits during the COVID-19 pandemic. Fifty-three percent said they no longer kept a schedule, followed by staying up late (53%), not getting enough exercise (43%) and watching too much TV (43%). Overwhelmingly, these habits were the most common among unemployed Generation Z respondents, more than half of who (56%) admitted to spending too much time on social media while out of work.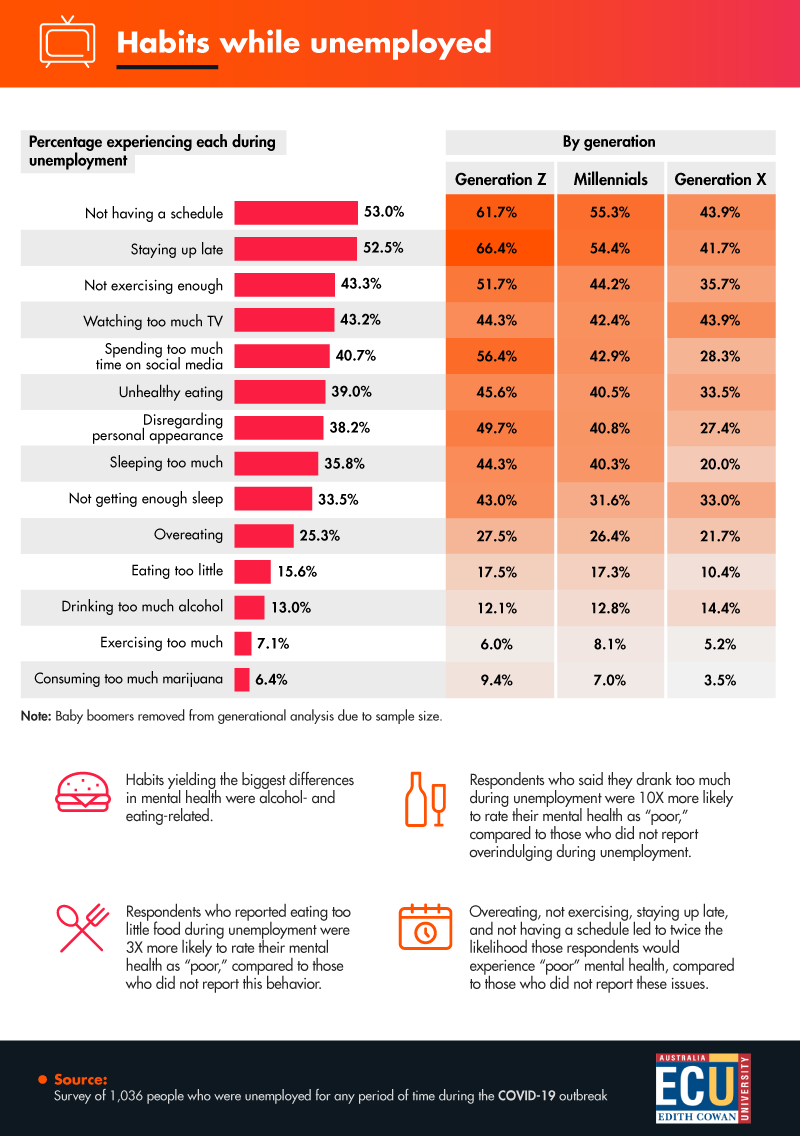 The habits most likely to be related to a decline in mental health were increased alcohol consumption and poor eating habits. As we found, those unemployed who said they drank too much during the pandemic were 10 times more likely to also rate their mental health as poor. Respondents who were unemployed and indicated not eating enough food were three times as likely to report poor mental health. Similarly, not exercising, staying up late and not having a schedule made people without work twice as likely to experience negative mental health consequences, compared to those who hadn't picked up these habits. Physical activity can have a profound impact on mood, including reducing stress, helping us sleep better and diminishing feelings of anxiety. 
Finding a solution for the pandemic blues 
Women we polled were more likely to report their mental health had been negatively impacted by unemployment during the pandemic, but 76% also said they were taking steps to improve their health, compared to 64% of men.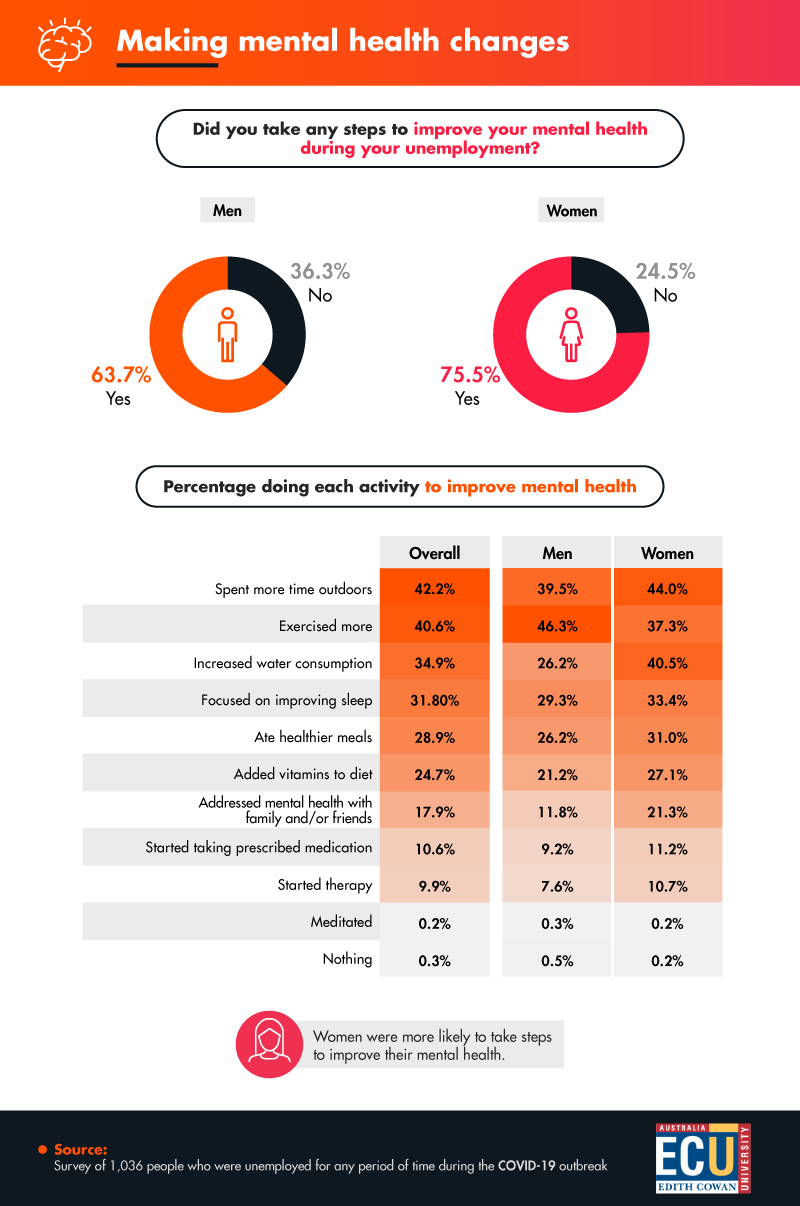 While men (40%) were more likely to report exercising more to help their mental health, we found women were more likely to try every other option for improving their mood and mental wellness. Most commonly, women spent more time outside (44%), increased their water consumption (41%), worked out more (37%) and focused on improving their sleep (33%) as a way to positively impact their mental wellness.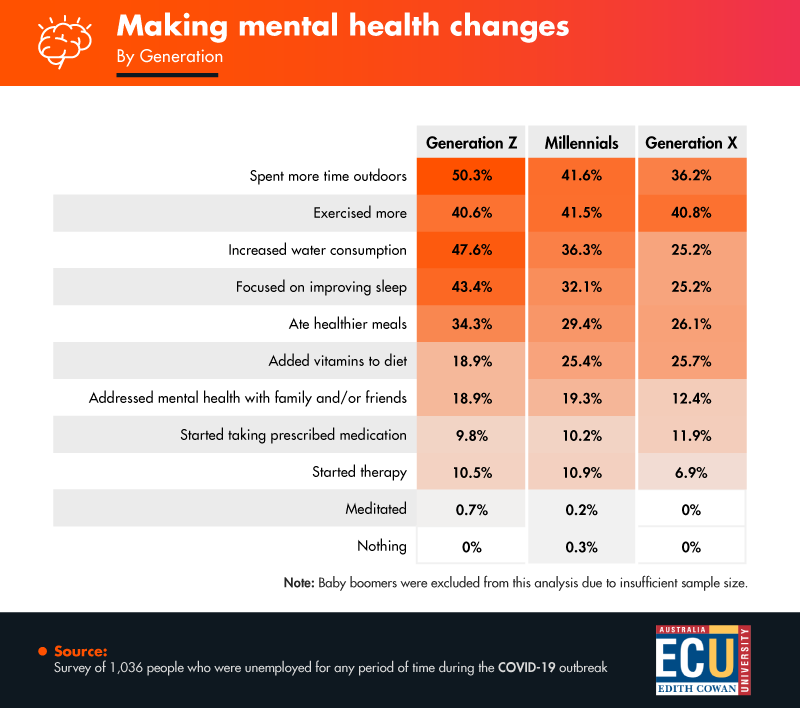 Younger generations were also typically more likely to be susceptible to the negative mental health consequences of being unemployed during the pandemic but also less likely to try certain solutions for bettering their health. Generation Z was the least likely to try exercising more to bolster mental health or add vitamins to their diet. Instead, we found Gen Z respondents were the most likely to turn to the outdoors (50%), drink more water (48%), focus on better sleep (43%) and eat healthier (34%).
Preparing for tomorrow
For those who've lost their jobs during the COVID-19 pandemic, it can take months to find employment again. In that time, many people we surveyed admitted to picking up some bad habits that could be contributing to their increased likelihood of poor mental health. According to our poll, women and younger generations were the most susceptible to the mental health consequences of being unemployed during the pandemic. 
If you or someone you know needs support, you can find help from the following services:
Methodology and Limitations
We surveyed 1,036 respondents ranging in age from 16 to 68 in order to explore the impacts of unemployment on mental health and general well-being. The mean age of respondents was 34 with a standard deviation of 10 years. 61% of our respondents identified as female, 39% identified as male, and 1% identified as nonbinary. 72% of respondents were living in the EU, 27% in the U.S., and 1% in Australia.
Survey data has certain limitations related to self-reporting. These limitations include telescoping, exaggeration, and selective memory. We didn't weight our data or statistically test our hypotheses. This was a purely exploratory project that examines mental health, employment, and general well-being during COVID-19. 
Fair Use Statement
Unemployment continues to impact millions of people across the globe. Share the results of these findings with your readers by including a link back to this page in your story for any noncommercial use so they have full access to our findings and research methods.