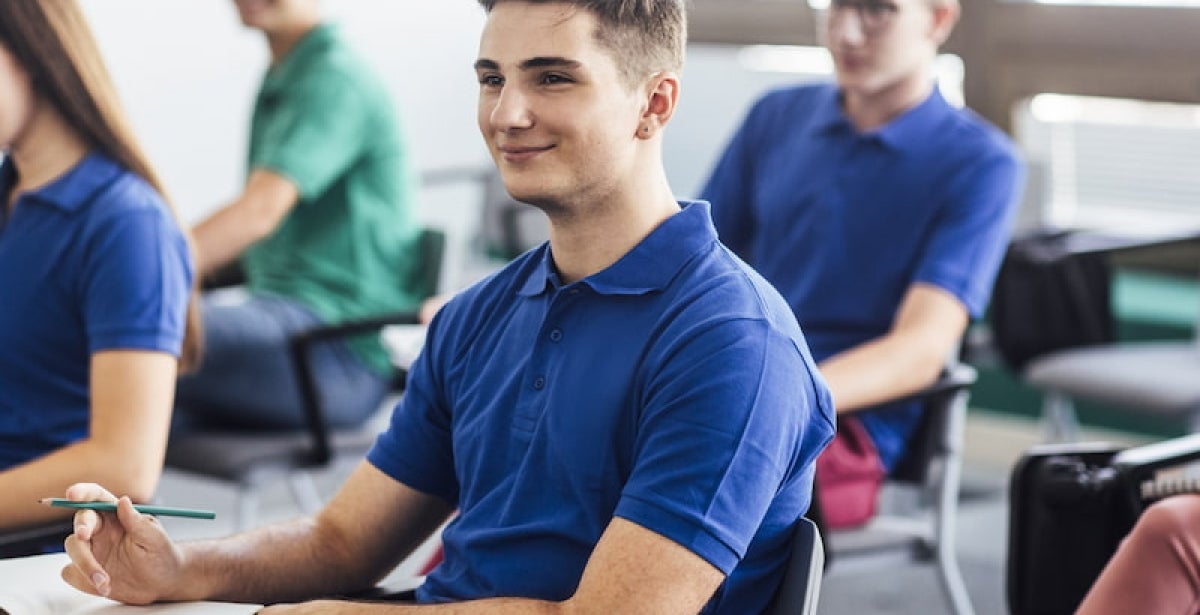 How to Become a School Counsellor in Australia
Being a school counsellor can be hugely rewarding, especially if you're naturally drawn towards helping others and creating positive change. If you're keen to make a real difference to the lives of young people, studying to become a school counsellor could be your perfect career match.
What is a school counsellor? Working one-on-one and in group sessions, school counsellors guide students through learning-related issues, relationships and emotions.
As our awareness of the value of mental health and wellbeing keeps growing, school counsellors are in more and more demand across the country, particularly in rural and remote areas. This means that working as a school counsellor is becoming an increasingly popular career path.
But navigating the pathways into the profession can be tricky, particularly in Australia where requirements vary across states. In addition, each school may have different names for similar roles, or require different qualifications. Relevant qualifications also depend on whether you want to be a school counsellor or a school psychologist.
Some good news is that recent advances in online education have made training more accessible which makes completing a Master of Counselling easier than ever before.
Becoming a school counsellor in Australia
Whether you've just completed an undergraduate course or you're looking to transition into school counselling from another career, your location matters.
The first step towards getting a job as a school counsellor in Australia is checking the requirements for the jurisdiction where you'd like to work. Finding the relevant information is also easier if you know the various names that can apply to the role.
The information in this article is based on state government requirements, but often each school will have their own set of prerequisites. If you're interested in becoming a school counsellor, always check the specific provisions for each job description to have the most accurate information.
Which course will give me the best chance of being a school counsellor?
While the requirements differ from state to state, a Master of Counselling will open more opportunities to you no matter which state or territory you're planning to work in. A master's degree may empower you to work as a school counsellor, but it'll also help advance your counselling career, giving you more flexibility in your role.
Take a look at how to become a school counsellor based on each state government's requirements below:
Western Australia
In Western Australia, schools call their counsellors 'school counsellors', 'pastoral care counsellors' or 'school chaplains'.
A chaplain in The National School Chaplaincy Program (NSCP) must have a certificate IV in youth work or pastoral care. The courses can be completed within 12 months and have no minimum entry requirements.
Schools across WA also employ around 500 psychologists. Much as in NSW and Victoria, the field is expanding, and the WA Government is committed to hiring an additional 100 psychologists between 2021 and 2025.
To become a school psychologist in WA, you'll need to either:
Be eligible for, or hold, general registration with the Psychology Board of Australia; or
Be eligible for provisional registration with the Psychology Board of Australia with either:

an APAC-accredited fifth-year qualification in psychology; or
an APAC-accredited fourth-year qualification and a recognised qualification in teaching (or Graduate Diploma in School Psychology).
For further information, see the WA Department of Education.
New South Wales
Every child in Australia's most populous state has access to a school counsellor or psychologist. School counsellors are in demand, and the New South Wales Department of Education offers extra incentives for working in rural and remote locations1.
School counsellors in NSW offer counselling, assessment and intervention services to students of all ages.
To become a school counsellor in NSW, you'll need to:
Have teaching and post-graduate qualifications in psychology;
Be eligible for approval to teach in NSW Department of Education schools; and
Hold or be working towards registration with the Psychology Board of Australia.
For further information, see the NSW Department of Education.
Victoria
In Victoria, government schools have a position titled 'mental health practitioner'. The Victorian Government has committed to funding a mental health practitioner in every high school by the end of 2021.
A mental health practitioner provides counselling support to students. They may also arrange help for students with complex needs, and contribute to 'whole-school' approaches to mental health.
To become a mental health practitioner in Victoria, you'll need to:
Hold a bachelor-level qualification or a relevant specialist/postgraduate qualification;
Hold full registration with the relevant professional body (where this applies);
Be eligible to be a member of the Australian Association of Social Workers;
Have demonstrated direct counselling experience; and
Hold a current Working with Children Check.
For further information, see:
Queensland
Government schools in Queensland have a position called 'guidance officer'.
Guidance officers can have different responsibilities. Some contribute to developing student support and wellbeing programs. Others work directly with students, teachers, family and other specialists. Most also offer assessments and career development advice.
To become a guidance officer in Queensland, you'll need to:
Be a registered teacher; and
Hold a Master of Guidance and Counselling degree, or a four-year degree in psychology.
For further information, see Education Queensland.
South Australia
Rather than having a 'school counsellor', South Australian government schools have a 'student wellbeing leader'.
People in this role work cooperatively within a school to create a safe, supportive and respectful environment for students. Student wellbeing leaders also provide guidance within a learner wellbeing framework.
To become a student wellbeing leader in SA, you'll need to:
Be currently registered or able to be registered with the Teacher Registration Board of South Australia before starting a position.
SA also has a range of additional eligibility requirements for leadership positions.
For further information, see:
Tasmania
Tasmanian government schools employ 'school psychologists'. Students generally see their school psychologist after teaching staff refer them.
Counsellors in this role work to increase student engagement and create better outcomes for learners.
To become a school psychologist in Tasmania, you'll need to:
Be a qualified teacher;
Be registered as a psychologist within Tasmania, or have a degree with a fourth-year qualification in Psychology; and
Hold a current registration to Work with Vulnerable People.
For further information, see the Tasmanian Department of Education.
Australian Capital Territory
In the Australian Capital Territory, every government school has a school psychologist. However, schools may also have other mental health support staff, such as a:
School youth health nurse;
Youth worker; or
Student wellbeing worker.
To become a school psychologist in the ACT, you'll need to:
Hold, or be eligible for, registration with the Psychology Board of Australia.
For further information, see the ACT Education Directorate.
Northern Territory
The Northern Territory uses the term 'school counsellors' and the NT Government lists this role as a 'hard to fill' job2.
The state's Department of Education has released its School Counselling Service Action Plan 2019-2023. This plan is tailored to the region's complex needs and focuses on improving students' safety and wellbeing.
To become an education psychologist in the NT, you will need to:
Hold a minimum of a bachelor's degree or higher qualification.
For further information, see the NT Department of Education.
Which degree will allow me to become a school counsellor?
As you can see based on the state government school guidelines above, the required qualifications to gain these roles can vary.
However, a broad degree like a Master of Counselling will give you skills and expertise that can be applied to any of these roles and strengthen your existing qualifications.
What can I expect: Is school counselling a good career?
If you thrive in a stimulating environment and enjoy working on a team, becoming a school counsellor could be a good fit for you. That's because school counsellors regularly interact with students, families, teachers and executives. It's also heartening to know that school counsellors rate their level of job happiness in the top 33% of the national average3.
Students will feel the disruption that COVID-19 has caused, and its impact on mental health4, for years to come. So knowing that you're helping them to stay motivated and thrive in a school environment is exciting. And providing support for more challenging issues such as interpersonal relationships and difficult emotions can also be deeply satisfying.
There's also evidence that being a counsellor full-time or part-time is a secure career that is part of a growing jobs sector5. As the stigma around mental health reduces, the number of people seeking help is rising, resulting in governments providing more mental wellbeing services. For example, school counsellors are in particular demand in rural and remote areas6.
As an added bonus, a postgraduate degree in counselling means that you'll always have the flexibility of switching to a counselling career in a different field, like in a workplace or a private practice.
That said, this can be a challenging role that requires resilience. Being a school counsellor can be demanding, stressful and lead to burnout. To avoid this, our Master of Counselling will teach you skills in reflective practice7. You'll learn how to remain open and empathetic while still protecting your own stamina and wellbeing.
If you're interested in learning more, read our guide to all your questions about counselling (we'll even tell you how much counsellors make in Australia).
While becoming a school counsellor isn't for everyone, if it's right for you, it provides stability and the fulfilment of making a difference in young people's lives.
Next step: Getting qualified with a Master of Counselling
If you've decided that becoming a school counsellor is the right career path for you, the next step is to ensure you meet the academic requirements and build your skillset.
ECU Online's Master of Counselling is accredited by the Australian Counselling Association (ACA). It's designed by industry experts to meet the complex, evolving needs of our communities. The program is an advanced, evidence-based course that provides a firm foundation for your future career as a school counsellor.
Our Master of Counselling program is also an accelerated online course, so you can study it anywhere, anytime. You can complete your degree in just two years part-time, which means you can take advantage of the growing employment opportunities across the country sooner.
Start your career as a school counsellor now
At ECU, we were rated five stars for postgraduate student support, learning resources and overall educational experience in the 2021 Good Universities Guide. So when you choose to study the Master of Counselling with us, you can be confident of a quality learning experience.
Our Student Enrolment Advisors are available to talk through any questions you might have. Reach out via phone on 1300 707 760, email future.student@studyonline.ecu.edu.au or download a brochure.
Sources
1NSW Department of Education: Rural and remote benefits and incentives
22021 Northern Territory Skilled Occupation Priority List
3Career Explorer: Are school counselors happy?
4ECU Online Blog: Unemployment and Mental Health During Covid-19
6The Sydney Morning Herald: Get schoolkids trauma counselling: Labor calls for mental help
7ECU Online Blog: Why You Should Study a Master of Counselling