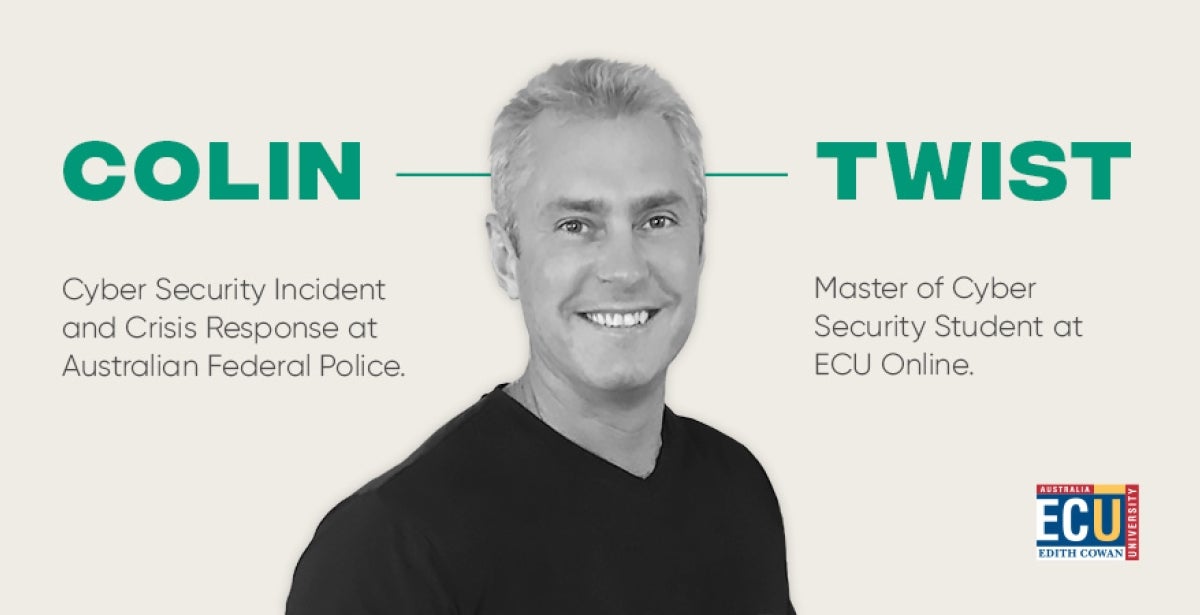 My Cyber Security Study Journey - An Interview with ECU Student Colin Twist
Embarking on an online study journey can be a challenge, especially when you are immersing yourself in a new field. 
That's especially true when it comes to cyber security, an industry that moves so fast that it can be hard to keep up. 
For Master of Cyber Security student Colin Twist, studying an online, accelerated degree with ECU was the first step into the world of cyber. 
From law enforcement to cyber security
Colin's background includes sales, aviation and law enforcement. After working as a federal agent in investigations, Colin developed an interest in the growing field of cyber security and digital forensics. His background gave him an insight into the field, but when the time came to upskill, he turned to postgraduate studies.
"I have very much a 'school of life' and on-the-job training. [I try] to teach myself a lot of things, but I thought I needed some formal skills" he says. 
As a graduate of ECU, he was familiar with its reputation, particularly since it has been recognised by the Federal Government as an Academic Centre of Cyber Security Excellence. When assessing his options for cyber security study, the choice was easy. 
"The actual course outline and units were a huge [draw], because that was exactly what I wanted to learn," Twist says.
Colin's pathway from graduate certificate to master degree
Part of what appealed to Colin about ECU's online Master of Cyber Security was that it didn't require an undergraduate degree in IT or a related field. By beginning with the Graduate Certificate of Cyber Security and building his way up through to the master program, he has been able to apply his learning to his current role and immerse himself in the world of cyber security. 
"You are exposed to a lot of material in a short amount of time, but you get to experience a lot of different areas of cyber… Every single day, I utilise some aspect of something that I've learned [in the degree]."
Cyber security is a cat and mouse game
For Colin, part of his desire to study cyber security came from wanting to protect people and their data from the constantly changing threats emerging from the cyber sphere. 
"There's the innocent punters in Australia, just trying to go about their business - the targets. From where I sit in law enforcement, our goal is to protect the people. It's a cat and mouse game that you play with the threat actors, it's about winning and protecting the people."
In spite of his interest in the world of cyber security, Colin didn't have a strong technical background, saying his wife "believes that I think that technology peaked at frozen pizza." 
But that didn't stop him from pursuing his studies, seeing his diverse career trajectory as an asset in the field of cyber security. "I think people who aren't born of the tech age can bring some pretty powerful value into the whole cyber security project."
That value includes the kind of soft skills in high demand in the cyber industry. Colin lists being able to work with other people and engage with different perspectives as being vital to success in this field. Collaboration is key to being able to create strong cyber security defenses, and the key to solving problems can be the ability to bring people together for a common goal. 
Choosing a specialisation and expanding his skills
ECU's online Master of Cyber Security offers two specialisations, and students can choose between Governance and Technical Analysis. With his experience in law enforcement, Colin felt that specialising in Governance was the obvious choice, but had a change of heart. 
Switching over to Technical Analysis was a challenge, but Colin felt confident it could turn him into a more well-rounded cyber security specialist. His decision paid off, not only for his cyber security skills but also for his grades. 
"I was so far out of my comfort space, but I worked really hard. I collaborated with other people and ended up with High Distinctions... It also opened up a completely different thought space for me. I'm so glad I did it. If I hadn't, I would have regretted it for sure."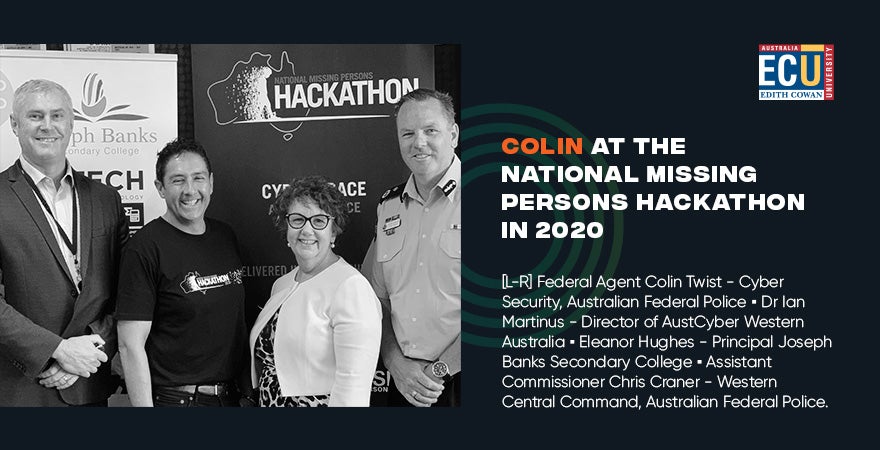 Gaining real-world experience with his capstone project
In addition to his specialisation, Colin is working on a capstone project for his Master of Cyber Security. Split over three units, students work to develop, implement and evaluate a cyber security project. This allows students to apply what they have learned to the real world, and for Colin, Covid-19 demonstrated a need for more secure tech training. 
"Traditional methods of training [are] outdated and not really suitable for an environment where the workforce is becoming more decentralised. That's not just working from home... it's about finding a solution to offer top level training, delivered in new ways, in a very inclusive and available methodology." 
Colin's project has seen him collaborate with the Department of Home Affairs and private companies. 
Colin's advice for cyber students who want to tackle their capstone project is to start thinking about it early, and make sure they choose something that is achievable within a six-week study period. 
Plan study time and reap the rewards
Not only does Colin have some big ideas for the future of cyber in law enforcement, but he also has some wise words for anyone thinking of pursuing ECU's online Master of Cyber Security. He says that although it is a big commitment, if you put in the time, you will reap the rewards - whether you are looking for high academic achievement or networking opportunities in the cyber industry.
Colin also recommends using all the resources you have at your disposal, from connecting with other students, to communicating with your Student Success Advisor, to making the most of every week - including Orientation Week. 
"You just need all the time you can get and really utilising that orientation week is a massive advantage."
Studying with ECU has made Colin even more excited about the future of cyber security 
Colin's cyber security studies have only strengthened his enthusiasm for this field. "You're only limited by your imagination in this industry," he says. 
The application of cyber security in space is one area that intrigues him, but he sees possibilities everywhere. "I think that the wonderful part about cyber is that there's so much scope."
When asked about his advice for those thinking about studying cyber security at ECU, Colin's answer is clear:
"Go for the opportunity! I advocate the accelerated program. I think that it is a very exciting time for anyone coming into it… Wherever you want to go, whatever you want to do, you can do it. ECU has got an excellent program. Embrace it and enjoy the journey."
If you're interested in studying cyber security, an online Master of Cyber Security from ECU will give you expert skills and knowledge, placing you in high demand in the global and growing cyber security job market. To find out more, reach out to our student enrolment team on 1300 707 760.