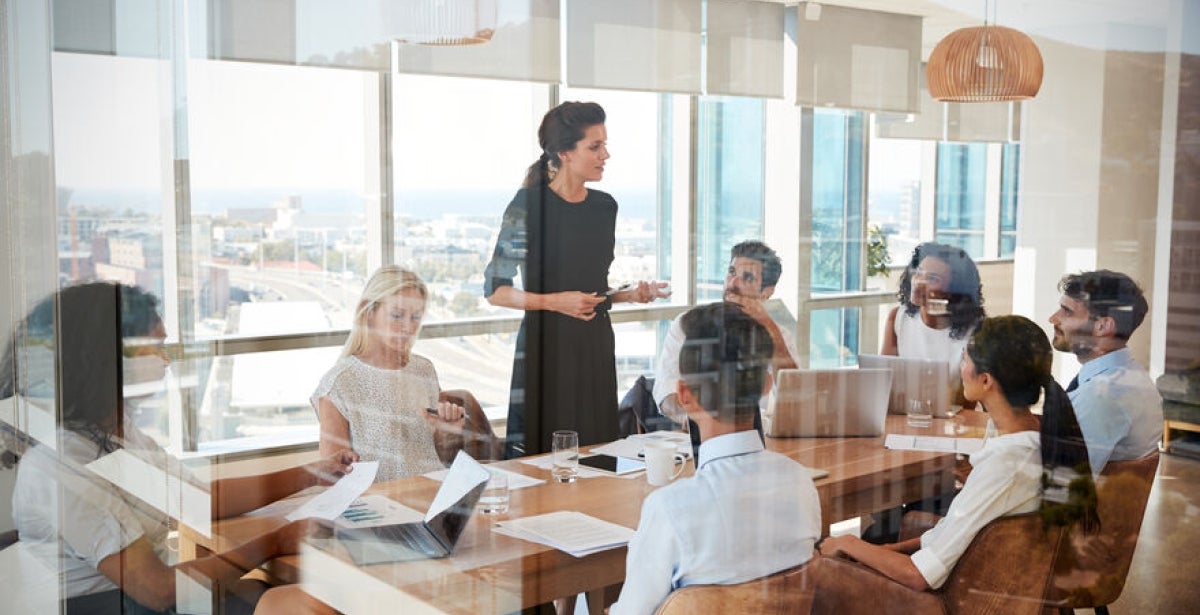 With organisations continuing to grapple with the new hybrid workplace, the role of human resource management (HRM) has never been more certain. Business leaders are increasingly looking to the HRM function for support to attract, manage and retain their talent. HRM has a seat at the table in leading business and workplace transformation.
It is an exciting and opportune time to enter the profession, and the average HRM salaries in Australia reflect this.
We examine the breadth of opportunity across the HRM industry, salary expectations for different HRM roles and how studying human resource management can help you reach your next step.
Interested in studying human resource management? Our Master of Human Resource Management will empower you to become a leader in this diverse field.
The HRM landscape
When most people think of HRM, they think of hiring and firing. Today, that is such a small proportion of the full spectrum of HRM roles. The HRM department is also responsible for culture, organisational development, workplace health and safety, and building an inclusive workplace.
In a small business, there might only be a single HRM manager or a small team responsible for all areas of HRM. In larger organisations, whole teams or departments will specialise in a single HRM subject matter.
According to the Federal Government Labour Market Insights, HRM roles are expected to grow by between 6 to 16 per cent in the five years to 2027.
Research suggests that the skills the HRM industry will need in the future will also evolve. The HRM roles of tomorrow will require creativity and innovation, as well as data literacy and tech acumen to bridge the gap between people and technology.
Whichever way you look at it, HRM is booming.
A deeper look at HRM roles
From generalist HRM advice roles to specialised areas of practice, there is no single career path most travelled. As for salaries, keep in mind that an HRM advisor salary in Perth may be quite different to an HRM advisor in Sydney.
Here are nine diverse and rewarding HRM roles that could form part of your career path along with the average salary you can expect in Australia.
1. People and culture advisor
A people and culture advisor — or HRM advisor — is often a more junior role than an HRM manager or HRM business partner. They provide advice and support to managers in the business but generally don't have as much experience as their senior colleagues. Remember that many HRM terms get used interchangeably, so a role can't always be measured by its title. A typical people and culture advisor salary ranges from $80,000 to $95,000.
2. HRM administrator
As an HRM administrator, you would be responsible for HRM record and database management as well as supporting other HRM policies and processes. An HRM administrator has a solid understanding of employment law. With entry-level opportunities, an HRM administrator salary ranges from $55,000 to $70,000.
3. Diversity and inclusion manager
HRM is a broad industry. In addition to generalist and administrative HRM roles, you can also choose to follow an HRM specialisation. Diversity and inclusion is one of these specialisations. In this role, you would be responsible for designing and implementing policies and practices that support diversity and inclusion in the workplace. The average salary for a diversity and inclusion manager is $94,573.
4. HR manager
HR manager is considered a generalist HRM role. They support their clients with a wide range of HRM tasks and concerns, and this includes everything from recruitment to performance management, administration and policy implementation. In a larger organisation with multiple HRM teams, an HR manager will be able to draw on the expertise of HRM specialist colleagues. An HR manager salary is typically between $110,000 to $130,000.
5. Learning and development manager
The learning and development (L&D) function within an organisation is responsible for training programs and organisational development needs across the business. You may develop and deliver the programs or work at a strategic level to map and target different organisational capabilities. The average salary for a learning and development manager is just over $125,000.
6. Employee relations consultant
Otherwise known as a workplace relations advisor, an employee relations consultant works primarily with industrial relations matters. This may include employee disputes, union negotiations, employment contracts and performance management processes. The salary for an employee relations consultant ranges from approximately $99,000 to $131,000.
7. Talent acquisition manager
Recruitment is a task that often falls within the remit of HR, sometimes within a generalist HR manager role. Other times, an organisation will have specialist recruiters — or talent acquisition managers — to advertise, select, interview and hire talent. As for salary expectations, the average salary of a talent acquisition manager is $127,000.
8. HRM business partner
As a more strategic role, an HRM business partner works alongside senior leaders to ensure that the HRM policies and practices meet the needs of the organisation. This is a big-picture role that operates at a senior level and requires significant HRM experience. The average HRM business partner salary is approximately $130,000.
9. HRM director
The HRM director is one of the most, if not the most, senior HRM role within an organisation. They are responsible for leading the direction of the HRM function and driving HRM initiatives at the board or senior leadership table. They generally have a masters degree and can expect an average salary of between $150,000 to $170,000.
Climb the ladder faster with HRM postgrad study
Research predicts that HRM salaries will trend in a positive direction. In the next financial year, 91 per cent of employers say they plan to review HRM salaries. This, combined with the rising demand for HRM roles, means shifting gears into HRM will become an attractive proposition.
Completing a Master of Human Resource Management through ECU Online can help to accelerate your career and help you reach higher-paying roles. An entry-level salary in Australia is also going to be vastly different to the salary of someone who has completed postgraduate study.
Where you take your career after completing the Master of Human Resource Management is up to you. Whether it's into a deeper specialisation or towards a senior HRM directorial role, postgraduate study will open up a world of opportunity. The course is also accredited by the Australian Human Resources Institute, so you can be sure your postgraduate studies are aligned to industry best practice.
Through the Master of Human Resource Management, you will:
Build your leadership skills in order to be ready for the changing world of work.
Adopt strategic thinking to align HR and business strategy.
Develop an understanding of positive workplace culture.
Learn how to drive inclusion at all levels in an organisation.
Grow your knowledge and skills in all areas of people management.
Discover ways to empower people to achieve their full potential.
If you are an HRM professional looking to grow your career faster, you could be eligible to fast-track your master's degree. If you have completed a relevant bachelor degree with a focus or major in an HRM related field, you may be able to complete the course in 9 units instead of 12.
Flexible and online, studying with ECU Online allows you to balance your work, life and other commitments with your studies in a way that works for you.
Take a step up in your HRM career
Improve your professional standing with an industry-recognised course. Developed by industry leaders and taught by supportive teaching staff, the Master of Human Resource Management will open the door to a booming career in HRM or allow you to take your current HRM role to the next level.
For more information about the ECU Online Master of Human Resource Management, call our Student Enrolment Advisor team on 1300 707 760 or email future.student@studyonline.ecu.edu.au.