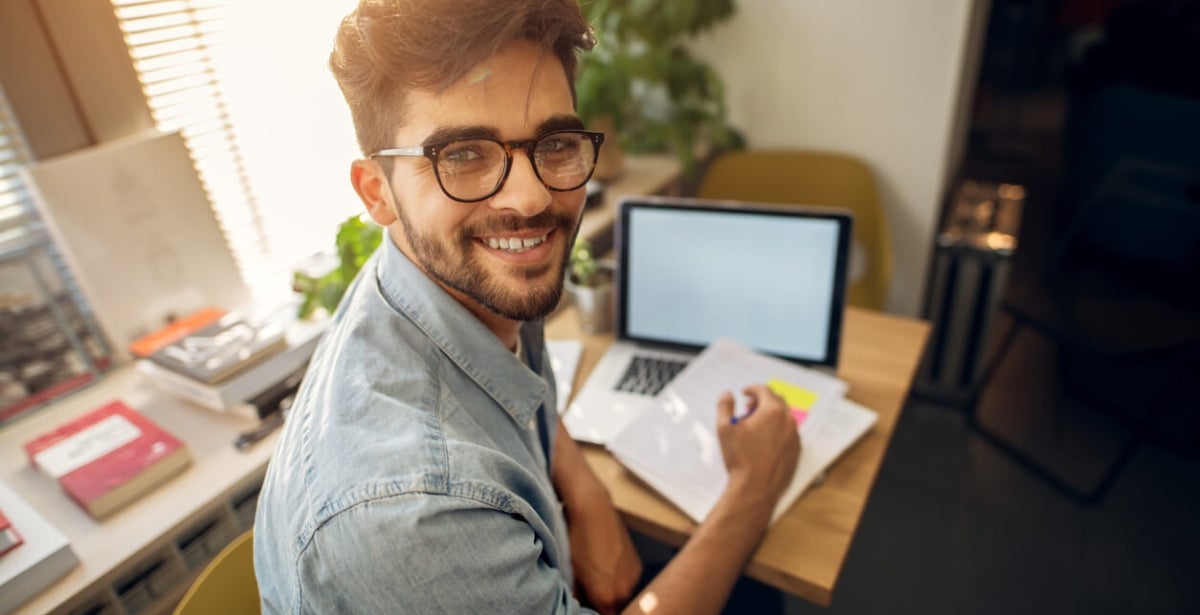 Tips to stay on track with your online study
Completing a Masters degree online has never been more achievable - thanks to ECU's user-friendly learning platform and accelerated mode of study that helps you learn when it works for you.  It can still be daunting when you're starting out, so here are five study success tips that will help get you to stay on track and ensure your student experience is a successful one.
Make the most of every day
If you take an objective look at your average week, you might be surprised by how much time can disappear unaccounted for. Our online course delivery enables you to make the most of every day and tap into those moments of downtime by accessing your materials through a variety of devices – whenever you can, wherever you are. The secret to student success is every little bit helps, even if it's 10 minutes of reading during your commute to work. Chipping away at your studies regularly means that things don't build up and become overwhelming or unachievable.
Get an accountability buddy
Don't underestimate the power of a study buddy! Studying with a friend significantly improves rates of student success. By sharing the student experience you'll improve information retention and expand your knowledge base, but most importantly, a study buddy is an excellent source of motivation to stay on track. Tackling a challenge with a friend increases your level of commitment and sense of accountability, and hopefully, reduces procrastination!
Reach out for support 
Just because you're studying online doesn't mean you're going at it alone. If you're feeling stuck with something study related, reach out to your dedicated Student Success Advisor who's there for you from enrolment to graduation. Also, make the most of all the resources that ECU has to offer – like the comprehensive online library service and Orientation Week. Don't forget there are also various peer support opportunities too, so you can connect with like-minded students going through the same experiences.
Stay focused on the finish line 
Balancing life, work and family while studying can have its challenging moments. When you're feeling unmotivated, it's important to stay focused on why you enrolled in the first place. Typically for most students doing a postgraduate course is about gaining valuable skills and creating greater career opportunities for the future. Graduating with a Masters with ECU means more choice, more autonomy and more professional growth. Write down your goals and keep them somewhere you'll see them every day to help you stay on track.
Put the P in prepared
When taking on extra studies, it's essential to be well organised and prepared. It's a good idea to be in this frame of mind from the beginning, even when you're enrolling. Applying for your course well before the closing date means you'll have time to create a personalised study plan with your Student Success Advisor and have everything you need before Orientation Week begins. Starting in this way means you're set up for student success right from the beginning.
By following these student success tips, you'll find it easier to avoid feeling overwhelmed and keep up with your workload and your peers. Starting anything new in your daily routine requires consistency, and that's the same too for online study. Once you make it a priority in your week, you'll see how easy it is to stay on track with all of your other responsibilities. Staying focused during the seven-week study period is important, but downtime is also essential between units. Take some time for yourself to recharge before you start again and you'll be able to stay focused on the finish line. Remember it's a marathon, not a sprint!  
Learn more about our leading online courses (offering a Masters of Cyber Security and Masters in Early Childhood Education) and get in touch with a Student Enrolment Advisor today on 1300 776 052.