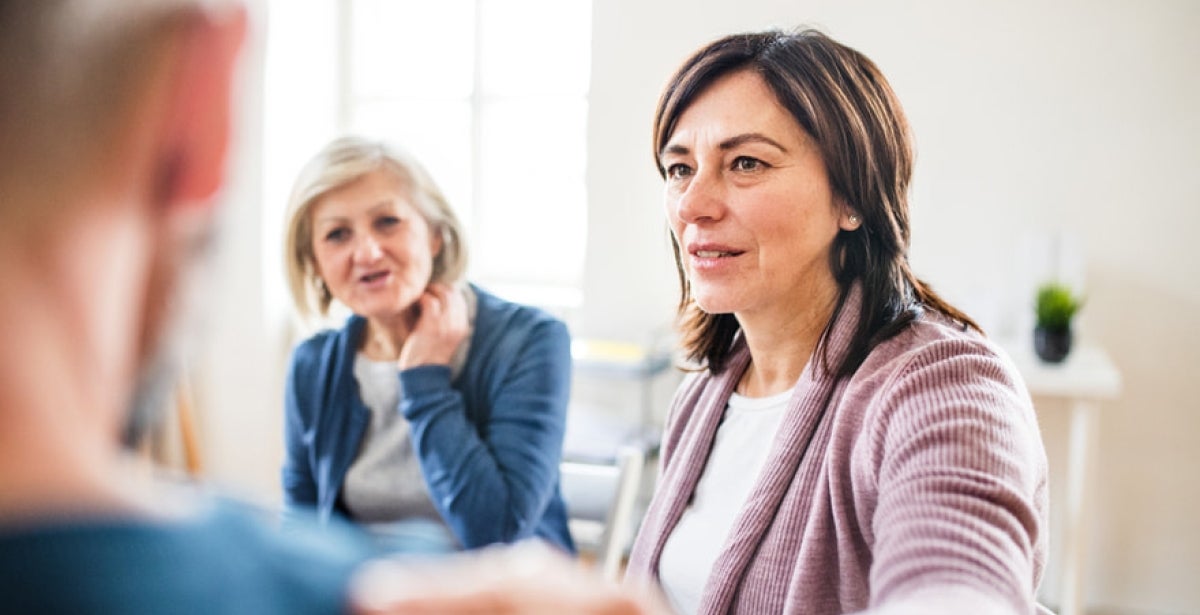 Considering changing to a counselling career? Here's what you need to know
If you've been considering switching to a counselling career, there's a good chance you've been wondering how to get started. To help, we've created a step-by-step guide to changing careers and taking those first steps into the field of counselling.
Today, there is no longer an expectation that individuals choose a single career path and stay in that field for their entire working life. Currently, the employment landscape looks very different. Career changes are now far more common, even later on in life. What used to be dismissed as 'job-hopping' is often now accepted as normal. And people in their forties, fifties and sixties regularly switch careers.
So if you're looking for a way to help directly improve people's lives, studying for a counselling career is a great option. Perhaps you could help couples to repair their relationships. Maybe you could provide people with coping strategies for anxiety or help them heal from trauma.
Whichever area of counselling you're drawn to, the potential career paths are varied.
Demand for counselling is growing
The demand for mental health counsellors has seen a sharp increase in recent years, particularly in the wake of the COVID-19 pandemic. Lockdowns, job losses and uncertainty have sent stress levels sky high for many people.
For example, Lifeline – Australia's crisis support phone service – has experienced significant increases in demand. According to Lifeline Australia Chairman John Brogden, "just two years ago we were averaging under 2,500 calls a day. Today, we are regularly seeing more than 3,500 – a 40% increase."
Fortunately, online service delivery models and telehealth consultation services have allowed more people to access counselling services during lockdowns. And now that the world is more comfortable seeking support services online, demand for those services is greater than ever.
Strong growth and stable, flexible prospects
A counselling career can give you the confidence of a stable income, but there's also room for flexibility around working hours. According to Training.com.au, "both full-time and part-time opportunities are in abundance, with the current workforce split down the middle."
Salary potential is strong too, with the average annual salary for a mental health counsellor sitting at $62,000. Learn more about potential salary ranges in our guide to how much counsellors earn.
And demand for qualified counsellors is only growing. The Australian government's JobOutlook reports that there were 33,000 Australian counsellors in 2020. They expect that number to reach 37,800 by 2025.
As a result, the counselling industry promises a rewarding, long-term career for those who are seeking fulfilling work. It also offers flexibility around the type of work you choose to do and the impact you make.
A wide range of specialisations
The field of counselling contains a wide variety of specialisations and career paths to suit different interests. Many counsellors choose to specialise in an area that they themselves have struggled with or worked through.
Some such areas include:
Grief
Trauma
Anxiety and stress
Depression
Relationship, family issues and violence
Abuse
Addiction
Negative behaviours or attitudes
Possible career options
Once you're qualified, you could also gain employment in a range of organisations, such as:
Schools
Correctional facilities
Rehabilitation centres
Crisis support centres
Government-funded health centres
Examples of possible roles within these organisations might include:
Drug and alcohol counsellors
Family and marriage counsellors
Student counsellors
Telephone counsellors
Youth counsellors
Refugee counsellors
Suicide and grief counsellors
The other option is to start your own business as an independent counsellor in private practice. Running your own practice can be challenging since it requires you to learn how to manage a business as well as support your clients.
However, having your own business gives you complete flexibility in:
How you operate;
What hours you work; and
Which mental health areas you focus on.
How to start a career in counselling
If you're planning to change to a counselling career, we recommend following a considered, step-by-step approach. That's because coming to counselling from another career at a more mature age can be vastly different to starting it straight from school.
School-leavers generally have less responsibility and a fresh slate to pursue their training. You're likely to be juggling existing work and family commitments.
That means you'll need to make a more gradual transition to ensure you don't spread yourself too thin. Taking things step-by-step will ensure you make the switch smoothly, with minimal risk or disruption.
A career change in counselling
Step 1: Decide on a qualification
Start by seeking out the appropriate qualifications.
If you're coming to counselling from another related profession, ECU's online Master of Counselling will give you a comprehensive, person-centred approach and also includes a placement component so you can gain practical skills.
Alternatively, you could start with the Graduate Certificate of Counselling, which will give you a strong foundation and allow you to progress to the master's qualification if you want to.
Step 2: Gain professional experience
Completing a practical placement is a great way to learn skills and techniques from qualified professionals. This will help you gain industry insights, while giving you valuable experience and training. Our Master of Counselling includes 220 hours of placement, giving you first-hand experience in an agency setting.
Step 3: Find a mentor
Find someone who can mentor you – ideally someone who's already in the counselling field. They can share their own experiences and insights into the industry while providing valuable encouragement and support.
Step 4: Involve your family or support network
Discuss your career change with your immediate family and the people around you. Upskilling to switch careers is a team effort. You and your support network will need strategies to deal with any reduced income and allow time for you to study.
Step 5: Work on your transferable skills
Figure out the skills you have now that could be useful in your future career, and see if you can develop these further. It's also helpful to determine what additional skills you might need, so you can start to develop these too.
Step 6: Ask if you can retrain at your current employer's expense
You may be in a situation where your new counselling career relates to your current career, and the role you want exists within your organisation.
If so, your employer might partially (or even fully) pay for your studies. To explore this possibility, talk to your manager or HR department.
Step 7: Make use of contacts
You might have friends or family who either work in counselling or within organisations you'd like to work for. Chat with anyone who may be able to share insights or opportunities.
Step 8: Create a plan
Make sure you develop, and then commit to, a practical plan to get you where you want to go. This will help you to avoid taking unnecessary risks and set you up for success in your new role.
After all that, it's time to get qualified.
Entry requirements to study a Master of Counselling
Graduate Certificate of Counselling
To enrol in our Graduate Certificate of Counselling, you'll need:
A bachelor's degree from a country specified in the Admissions Policy (with preference given to degrees relating to 'helping professions'); or
Equivalent prior learning, including at least five years of relevant professional experience.
For English Language requirements, you'll also need to show evidence of an IELTS Academic Overall band minimum score of 6.5 (with no individual band less than 6.0).
The Certificate will give you the foundational knowledge and skills you'll need as a counsellor. It's a great starting point for further study, or if you want to build your skillset and expand your counselling knowledge within an existing career like nursing.
Master of Counselling
Our Master of Counselling program expands on the graduate certificate's foundation by delving into more specialised areas, such as trauma counselling or working with children. It also includes supervised industry placements to help you put your skills into practice.
To enrol in the Master of Counselling program, you'll need:
A personal statement about why you want to complete the course;
Academic Admission requirements (Band 6); and
English Language requirements (Band 4).
You'll also need to submit academic transcripts and two referee reports, and attend an online interview. For the most up to date requirements, please visit our course information handbook.
Gaining professional accreditation
Counselling is unregulated in Australia, which means you can practise as a counsellor without any accreditation. However, it's a good idea to become accredited because it increases your credibility with both employers and potential clients.
The two main industry accreditation bodies are:
Australian Counselling Association (ACA); and
The Psychotherapy and Counselling Federation of Australia (PACFA)
Joining one or both of these as a member also offers extra support, such as:
Insurance
Professional development
Promotional opportunities
Peer networking
What can I expect when I change careers to counselling?
Changing careers can seem daunting, particularly if you're leaving a stable job.
However, staying in a career that's no longer working for you can take a toll on your personal health and wellbeing. Beyond this, it can also have negative impacts on your employer and job prospects.
Most companies recognise that engaged employees are happier and more productive. So, while a conversation about moving on to other opportunities might feel difficult, it will generally lead to better outcomes for both of you.
Each role and career you undertake teaches you valuable practical and mental skills. And many of these skills are transferable to future careers. Sometimes you need to try a few careers to discover what's most fulfilling to you.
And when you find a path that truly lights you up, the effort is certainly worthwhile.
Be realistic about the challenges
All of that said, retraining in a new profession later in life does come with a few challenges. That's especially true if you have a partner, children or other family members to care for.
You may encounter practical issues around:
Competing priorities
Lack of time
Family interruptions
Reduced income
These can then lead to increased mental and emotional strain.
Recognise too that when you change careers, you may need to start at the bottom or near to it again. This isn't the case for everyone, but it can happen. And if you've already forged a successful career elsewhere, taking on a junior role again can feel like a step backwards.
However, it may help to remind yourself that all of this is normal while you're in the process of studying and changing careers.
Try to remember that 'backwards steps' are often necessary to gain the skills and experience you need within counselling. Try not to get discouraged. You'll soon work your way up to where you want to be.
Perhaps most importantly, remember that whatever the challenges, they're only temporary. The longer-term rewards will be there once you're in your ideal counselling job, helping the people you want to help.
Ready to change to a career in counselling?
If you've read through our guide and you're ready for stable, fulfilling work in a growing industry, your future counselling career is waiting for you.
To get started on your path to making a real difference in people's lives, don't delay.
Learn more about ECU's online Master of Counselling today.