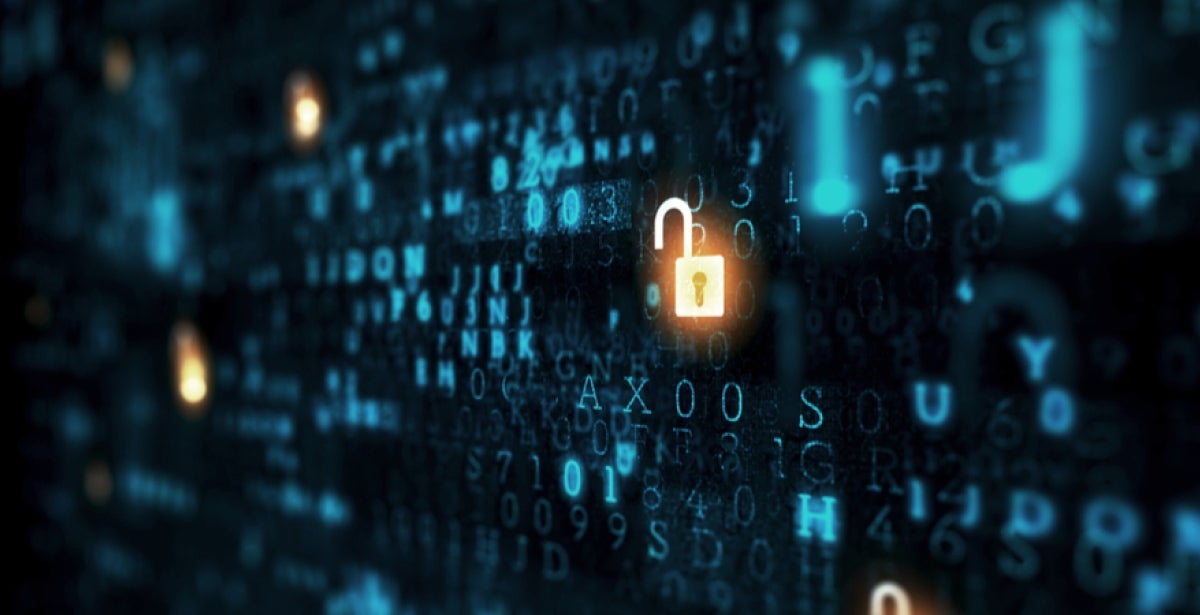 Which Cyber Security Degree is Best for Me?
The right cyber security degree arms you with the skills to prepare for the cyber threats of tomorrow.
The field of cyber security evolved as a response to specific threats in computer systems, from the Melissa virus in emails to malware in webpages, and today's zero-day attacks that leak gigabytes of sensitive data.
Today, this field is in high demand, especially due to the growing number of cyber criminals. The Australian Cyber Security Centre (ACSC) has just released its second annual threat report which reveals cyber crime reports in Australia jumped 13 per cent from the previous year.
Over 67,500 cybercrimes were reported in the last twelve months and a quarter of those affected essential services such as education, communications, electricity, water and transport. This creates an increasing demand for cyber security professionals.
But what kind of degree do you need to get into this field?
Do I need a degree to work in cyber security?
Like many fields, cyber security specialists can enter the field through a mixture of education and experience. However, with an acute cyber security skills shortage persisting across the field, applicants with advanced knowledge are in high demand.
The Australian Government's Job Outlook shows that 38 per cent of Database & Systems Administrators & ICT Security have a bachelor's degree, while 18 per cent have a postgraduate qualification.
According to Seek.com, to get a job as an Information Security Analyst, you'll need to hold a bachelor's degree in computer science, programming or a related field. But that's not all - employers are also looking for master's level qualifications in IT and business.
It's clear that postgraduate study can be a real asset in the cyber security sector, no matter what kind of career ambitions you have.
What is the best degree for a cyber security career?
If you already have a bachelor's degree, postgraduate study is the next step. This is particularly important if you want to specialise in a particular field or make your resume more impressive. You could choose to study a master's degree, another qualification like a graduate certificate or even a short industry certification.
But which one should you choose? That all comes down to what your goals are. Let's take a look at three different options.
1. Master of Cyber Security
A postgraduate master's degree will provide you an in-depth suite of skills focused on the needs of the cyber security sector. Having a master's degree on your resume can also demonstrate your high level of expertise to potential employers.
ECU created the online Master of Cyber Security specifically for the cyber security industry, which had previously relied on the MBA or a master's degree in IT to elevate their careers. Rather than simply combining business and IT, this postgraduate degree is focused on cyber security.
In the same way that IT and cyber security are constantly evolving, the Master of Cyber Security has been designed to stay ahead of the curve. Rather than just responding to the computer security threats of today, this cyber security program arms you with the tools to meet the cyber threats of tomorrow head on.
Some of the core units include digital forensics, network security, ethical hacking and information warfare.
With a deep understanding of information systems security and its place in business, the Master of Cyber Security gives you the choice between two specialisations – technical analysis and governance.
Technical Analysis
As the name suggests, technical analysis gets right into the zeros and ones of cyber threats in information systems.
Paul Haskell-Dowland is the Associate Dean for Computing and Security in the School of Science at Edith Cowan University (ECU) and is quick to point out that while cyber security embraces the human aspects of security, there's still a significant level of attention needed on the more technical aspects.
"The Technical Analysis specialisation allows students to develop more refined technical skills looking at how to detect, classify, respond, mitigate, remediate and report on cyber security incidents," says Haskell-Dowland.
In addition to jobs like Information Security Analyst, this specialisation would be beneficial for career options like network security engineer, computer forensics specialist or penetration tester (also known as an ethical hacker). You'll sharpen your skills in scripting languages, project management and big data.
"The specialisation also considers how to use intelligent solutions to analyse and visualise the large volumes of data being generated by our IT systems and infrastructure.
"Using advanced tools, we can consolidate and prioritise the alerts being generated to focus on mission-critical risks to organisational security," says Haskell-Dowland.
Governance
Why do businesses end up having to pay cyber criminals ransoms? Chances are they overlooked basic security governance and implemented inappropriate safeguards.
"Cyber security is aligned with matters pertaining to law, policy, governance and ethics," says Haskell-Dowland.
"Organisations need to be cognisant of local, national and even international legislation, policies and guidelines that may impact on their business."
Governance in cyber security goes way beyond understanding the impact of international privacy laws like the EU's General Data Privacy Regulation. It can also be as simple as knowing what data you have and where it is stored.
"Even smaller businesses make extensive use of cloud-based technologies and as-a-service models that see data storage and processing handled outside of the business premises."
"Cyber security practitioners need to be aware of the complex legal aspects of undertaking business in an infinitely-connected world and the potential obligations and risks of relying on external providers for key business functions."
With more of a business focus, the Governance specialisation takes in cyberspace law, policy and governance as well as cyber security ethics and principles. Like the Technical Analysis specialisation, it also features project management, which is crucial when it comes to implementing cyber security policies and procedures.
This cyber security career path would be beneficial to jobs like Information Assurance Engineer, Chief Information Security Officer and Security Administrator.
2. Graduate Certificate of Cyber Security
If you're not feeling ready to commit to a full master's program, there is another option to upgrade and certify your cyber security skills. The Graduate Certificate of Cyber Security is a six-month part-time program that can be completed 100 per cent online.
An extra benefit of the graduate certificate is that it comprises the first three units from the Master of Cyber Security – so at a later date you can choose to pick up your master's degree from where you left off.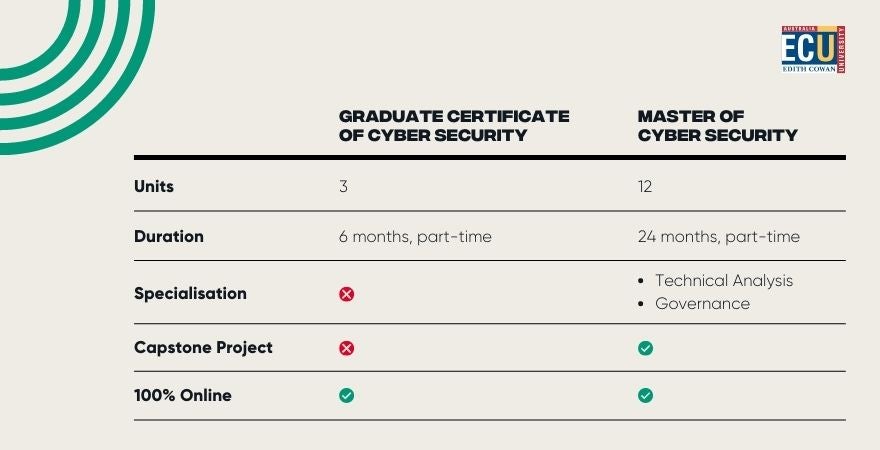 3. Industry certifications
Are you looking for a quick upskill? An industry certification can be helpful in personal development or in gaining new skills for a particular role.
To put it another way, certifications perform a specific function, like an app, whereas a master's degree is more like the operating system – it might come with some certifications installed, but they can always be added at a later date.
Haskell-Dowland splits these professional certifications into two broad categories.
"The first category is the vendor-aligned training, such as Cisco and Microsoft, which allow individuals to showcase skills and capabilities in the context of the parent organisation," says Haskell-Dowland.
"A second option is to consider the vendor-agnostic qualifications, which include COMPTIA and GIAC, which are more universal."
Haskell-Dowland points out that there are pros and cons with both options, but each can build your skills and expertise in specific areas to maintain the currency of your education.
"A university-level degree is often a first step on the career ladder, but like IT, cyber is constantly evolving."
That's why formal postgraduate study like a master's degree is an important foundation for your career and life-long learning, while industry certifications can be added as you progress in the field and to gain specific skills.
What is the career growth for cyber security experts?
According to AustCyber, spending in the cyber security field is expected to reach US$250 billion by 2026. To put that in context, the industry was worth US$130 billion in 2017, so it's almost doubling in size in ten years – and we're only halfway there.
With new threats emerging every day, cyber security is evolving fast, with an expected 12 per cent growth rate through 2027, according to Fortune Business Insights.
In a recent report from the Australian Institute of Criminology, a cybersecurity company was quoted estimating that the costs of cybercrime will increase 15 per cent every year for the next five years. That's in line with the ACSC's rise in cybercrime reports over the past year.
To translate that growth into numbers, the US$3 trillion international cost of cybercrime in 2015 will reach US$10.5 trillion by 2025.
With the damage done by cyber criminals escalating every year, it's clear that cyber security experts will continue to be in high demand.
Become an expert in cyber security with ECU Online
ECU Online's Master of Cyber Security has been developed for tech experts and cyber security professionals who want to position themselves at the forefront of the field.
ECU has one of the best cyber security research and education teams in Australia and is one of only two universities in Australia recognised by the Federal Government as an Academic Centre of Cyber Security Excellence. ECU has also recently become the first, and only, university from Australia to be invited to join the International Cyber Security Centre of Excellence as an Affiliate Member.
Delivered 100 per cent online, you could be graduating in as little as two years while continuing to work full-time.
Take the next step in your career as a cyber security expert with ECU Online's Master of Cyber Security.