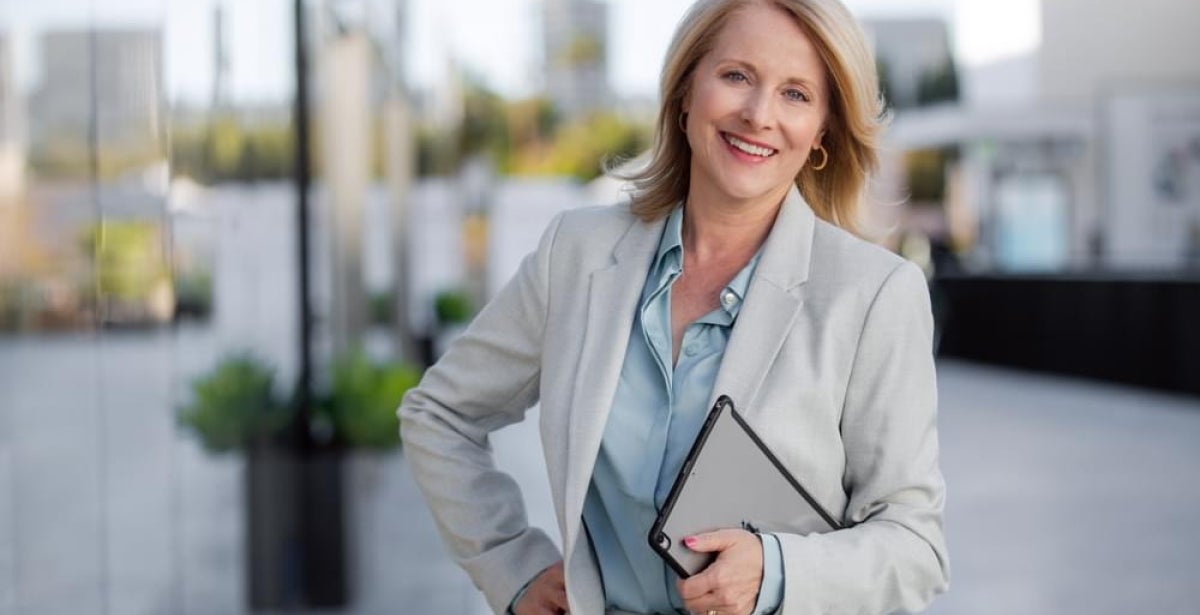 MBA Jobs: What Are the Career Paths for MBA Graduates?
Thinking about the doors a business degree from ECU could unlock for you?
Studying a Master of Business Administration (MBA) degree can lead to roles across a range of industries, such as finance, consulting, education, healthcare, entrepreneurship and more. You will be equipped to lead teams successfully, support individuals and drive positive transformation in your organisation, all from a place of human-centred leadership.
So, what MBA jobs are waiting for you out there? Let's delve deeper into your career options after an MBA.
What can you do with an MBA?
Whether you're eyeing a leadership role, a career switch, a new business or a salary boost, an MBA is a toolkit for success.
Move into leadership positions
The power of an MBA is that you don't just learn about business – you know how to lead it. Your leadership potential is nurtured, challenged and honed. Mastering strategic foresight, crisis management and ethical decision-making is crucial for guiding your team to a shared goal. 
Soft skills such as communication, teamwork, negotiation and conflict resolution get polished alongside data analysis and interpretation, and marketing strategies, ensuring you're adept at inspiring and motivating your team to thrive and be proficient at data informed decision making.
Change careers
With an MBA, transitioning into a completely different sector becomes a viable option. It provides a blend of theoretical knowledge and practical insights, forming a robust platform for exploring new careers. The networks you build during your MBA journey are also invaluable. They open doors to opportunities like working in consulting, healthcare, technology and not-for-profit organisations. 
Engaging with alumni, making industry connections during internships, and interacting with guest speakers and faculty members will expand your professional network. This can bridge various industries and establish job possibilities.
Launch a business
Having an MBA can help you launch and run a business successfully, both in the short term and long term. Your coursework will delve deeply into entrepreneurship, preparing you to take the reins of your own venture. 
Beyond theoretical learning, an MBA course immerses you in real-world entrepreneurial challenges, offering a glimpse of what it takes to build a thriving business. It nurtures an entrepreneurial spirit, fostering innovation and critical thinking, which are vital traits for any aspiring entrepreneur. You'll accelerate your journey from being a business enthusiast to a business owner, ready to make your mark in a competitive landscape.
Increase your salary
After your MBA, a significant salary bump is a realistic expectation. Some estimates suggest that MBA graduates could earn as much as 77 per cent more after they complete their studies and begin seeking new opportunities. Australia has also been ranked among the top 10 countries for MBA earning potential. 
Top industries for MBA graduates
Skills that you gain with an MBA - whether it's intricate financial modelling or high-level business strategy – are transferable across most industries, and your options are only limited by your interest and imagination. 
From consulting firms to government to small and large businesses across sectors, your knowledge and expertise make you a highly sought-after asset across a broad range of industries and sectors. 
Let's explore the most popular industries and career options for MBA graduates.
Entrepreneurship
Many MBA graduates resonate with the journey from classroom to startup. Your coursework prepares you to navigate the entrepreneurial ecosystem, from understanding venture financing to market analytics.
Health and aged care
The demand for efficient healthcare systems and profitability is on the rise. MBA graduates are stepping into roles like hospital administrators and medical directors, driving operational excellence and financial prudence in healthcare establishments.
Small business
Running a small business demands a gamut of skills, from operations to marketing. An MBA equips you with a holistic understanding of business operations, making you a valuable asset in small business management or consultancy roles.
Construction
MBA graduates are navigating the complexities of massive construction projects as adept project managers or operations directors. You will play a key role in orchestrating efforts among engineers, architects and workers.
Education
With an MBA, senior positions like school principal or university dean are well within reach. The surge in online education also opens avenues for roles like chief learning officers, bridging the educational realm with managerial expertise.
Energy and natural resources
The green revolution is ushering in new jobs for MBA graduates as sustainability managers or renewable energy consultants. Your expertise contributes towards a sustainable corporate strategy, aligning with the global shift towards green initiatives.
Jobs for MBA graduates
Data from the Australian Government Department of Education, Skills and Employment (DESE) has projected a stronger-than-average future growth in many jobs where an MBA qualification is valuable.
Let's delve into these MBA jobs, exploring the skills essential for success, their growth potential and the salary you might expect. 
Management and organisation analyst
A management and organisation analyst is pivotal in propelling organisations towards optimised operations and improved outcomes. They help solve efficiency problems and foster continual improvement to streamline structures, methods, systems, procedures and risks. 
You'll need strong analytical, communication and project management skills, a comprehensive understanding of business processes and an ability to foster collaborative environments. 
The salary of a management and organisation analyst in Australia varies based on experience and seniority, with professionals earning up to $104,000 per annum. 
Chief Executive Officer 
As a Chief Executive Officer, you'll steer your organisation towards its mission while navigating everyday business complexities. This position demands a combination of strategic foresight, exceptional leadership and proficient managerial skills, as well as communication, negotiation, financial acumen and problem-solving abilities. 
According to Seek, the average managing director's salary in Australia is $210,000. For CEOs, it's $205,000 to $225,000, but your pay can get significantly higher depending on the size of the company you work for. The DESE projects 14.9 per cent job growth over the next two years.
Corporate services manager
A corporate services manager plays a pivotal role within an organisation and is responsible for planning, directing, controlling and coordinating its administration. You'll be entrusted with making significant administrative decisions, offering financial advice, supervising facility upgrades and managing staff to ensure smooth and efficient operations. 
Being adept in project management, business development, strategic planning and risk management is crucial for a corporate services manager. They'll help you navigate complex operational challenges, ensuring a steady growth trajectory.
The salary range for a corporate services manager in Australia can vary, but on average, they earn around $124,776 per year. 
This role is both critical and financially rewarding, reflecting the high level of responsibility and expertise required to ensure that an organisation's administrative functions run smoothly and efficiently.
Entrepreneur
Entrepreneurship is a challenging yet potentially rewarding path that requires a mix of creativity, resilience and a solid grasp of the market and business dynamics. Studying for an MBA can help you achieve that. 
Financial stability in the early stages of an entrepreneurial venture can be rocky. Revenue may trickle in slowly, and there could be months where expenses far outweigh income. As the business grows and scales, your earning potential increases. Scaling brings in more customers, more revenues and more profits. 
In the long run, a successful business can provide a comfortable income, job satisfaction and a potential asset you can sell or pass down to future generations.
Change manager
Change managers act as facilitators for transforming a company's operations. They are required to develop and implement strategies to maximise the benefits and minimise the negative effects of organisational change. 
To thrive in this role, you need strong business to allow you to identify and implement changes to processes, systems and technology. You also need to have a strong human-centred focus to help you identify the impact of change on people, preparing people for change and handling any resistance. 
The average salary range for a change manager is $135,000-$155,000. 
Transform your career and learn the human side of business
Becoming a leader means transforming yourself along with your business. It's more than developing a new skill set - it means learning new ways of thinking, discovering how to handle complex situations and driving positive change. 
ECU Online's Master of Business Administration makes getting an MBA more accessible than ever. It mixes leadership training, entrepreneurial insights and flexibility across sectors into a comprehensive learning experience that will open the door to a wealth of MBA jobs once you graduate.
Online study lets you tailor your study to fit around work and family while focusing on the specialisations that interest you most.  As ECU Online's MBA is accredited by the Association to Advance Collegiate Schools of Business (AACSB) and the university is ranked first in the 2022 AFR BOSS Best Business Schools list, you can fast-track your studies knowing you're learning from the best in the business.
Gain the abilities and mindset you need to thrive as a leader of tomorrow. Learn more about studying ECU Online's Master of Business Administration. 
Reach out to one of our Student Enrolment Advisors on 1300 707 760 or email future.student@studyonline.ecu.edu.au