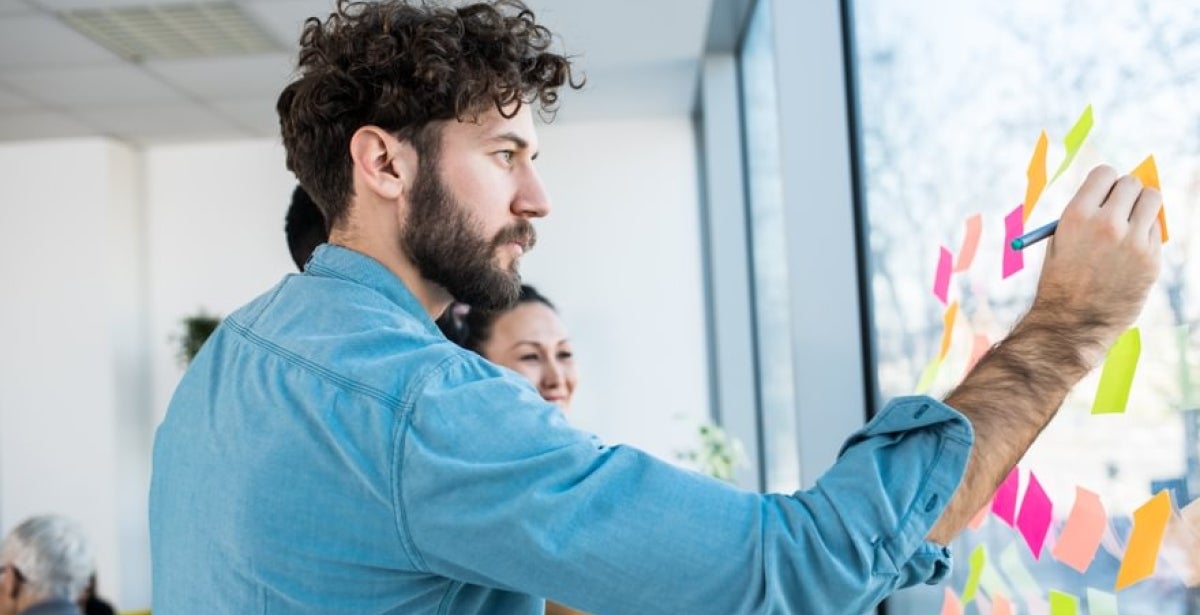 How to Become a Project Manager in Australia
One thing is for sure — the world is changing fast. Companies need to adapt, innovate and deliver value faster than ever before.
According to Richard Hughes, lecturer at ECU's School of Business and Law, and course coordinator for the Master of Project Management, projects are how we keep up.
"Whether it be in commercial, government or not-for-profit sectors, we need projects that bring about change to solve our greatest challenges."
Ideas are brought to life through projects. Companies are looking for skilled project managers to make change happen, from small businesses to large-scale organisations.
What is a project manager?
You might be asking yourself, what does a project manager do?
The role of a project manager is to design, lead and implement change. They deliver innovation and focus on implementing strategic initiatives.
Project managers make sure projects run on time, on budget and in scope, commanding a wide range of technical and human skills to succeed in their role.
What skills do you need as a project manager?
Project managers need a variety of technical skills including:
Risk management
Planning and scheduling
Data collection and management
Budgeting and scheduling
Resilience, self-awareness and self-management are key to driving productivity in teams. Also important is the ability to communicate, motivate, influence and lead people with confidence. In addition, high levels of emotional intelligence are critical in succeeding in this role.
Project management skills are highly transferable across all sectors and industries. Methodologies such as change management and agile ways of working are universal, so you have the freedom to work across various industries and sectors in your career.
What are the key responsibilities of a project manager?
Hughes says "they should be competent in six core areas of a project."
These six core areas are:
Scope
Schedule
Finance
Risk
Quality
Leadership
A project manager needs high levels of planning, collaboration, coordination and organisation to create a successful project. Talented project managers are also leaders who know when to bring the right people together at the right time to achieve the right results.
Keeping up with technology
Best practice thinking is changing with project management. More innovative solutions are replacing practices that were once standard. As technology advances, project managers are leading with more data-driven decision-making.
The use of AI technology and more adaptive ways of working are also emerging. A willingness to embrace new technologies is what will set you apart as a project manager. It's important to constantly be learning in this role.
How to become a project manager in Australia
To become a project manager in Australia, you typically need a qualification in project management. "To be a good project manager requires a solid background in the theory behind project management. You need an understanding of the various ways in which project management can be undertaken," Hughes says.
While there are a number of short courses on offer, they won't equip you with the critical thinking and academic credibility or depth of knowledge that comes with a formal qualification. If you already have an undergraduate degree or a background in business, a postgraduate degree like a Master of Project Management is a good option.
Completing a Master of Project Management tells prospective employers you can walk into a project management role with confidence.
Studying a Master of Project Management will offer you:
Opportunities to build your portfolio before you graduate. Enter the next step in your career already armed with a wealth of experience and ready to hit the ground running.
A foundational understanding of the field. Learn what challenges the industry is currently facing and how you can seize current and evolving opportunities.
Networking opportunities. Meet and learn from like-minded students while you foster invaluable industry connections, as many of them will be project leaders in the future.
The demand for project managers in Australia
"The demand for skilled project managers has been high for years," says a representative from The Australian Institute of Project Managers (AIPM).
And Hughes agrees. "Most of the professional project organisations predict that there will be insufficient project managers for the number of future roles."
A study conducted by The Project Management Institute (PMI) has found that by 2027, the need for project management will grow by 33 per cent in 11 countries, including Australia.
According to that study "as opportunities are growing, the available talent is reaching retirement age. These factors are creating an extraordinarily positive job outlook for skilled project professionals."
The report goes on to say "the global economy has become more project-oriented. We're seeing this in industries that were traditionally less so, such as healthcare, publishing and professional services."
That is why we are seeing a dramatic increase in the number of jobs that need project-oriented skills. The PMI study predicts that by 2027, employers will need more than 87 million people working in project management roles globally.
The future is bright for project managers
So, what can you expect to earn as a project manager?
The project manager skillset is highly sought after, so it can be a lucrative career choice.
The 2021 AIPM Project Management Professional Survey says the average project manager salary ranges from $140,000 to $150,000. And for industries where project budgets are into the millions, the salary increases. For example, project managers working in the mining industry can earn between $180,000 to $190,000.
Become qualified in project management with ECU Online
ECU's accelerated online Master of Project Management is designed for emerging and experienced project professionals looking to kickstart their career growth. It will help you develop advanced knowledge in project management principles and practice.
"If you're new to project management, our Master of Project Management is a great way to start your project management career. It helps you understand the principles and theories that underpin the project profession," says Hughes.

"Studying with ECU's School of Business and Law, you will benefit from the experience of industry experts and project managers. You will learn from experts with backgrounds in a diverse range of fields such as business, innovation, sustainability, policy creation and change management."
Start now and you can embark on a career in project management while you're studying. This way, you can take what you learn into the workplace. You can also develop your own network of contacts from your peers in the course. After all, you will likely all be new and emerging in the profession in Australia.
Choosing an industry-recognised degree has benefits
Our Master of Project Management is accredited by the PMI and endorsed by the AIPM. This means you will graduate with a degree that has national and global recognition.
Upon graduation, you can gain credit towards PMI qualifications and become an AIPM Certified Practising Project Practitioner. While studying, you can join both of these project organisations as a student member. Doing this will allow you to further expand your professional network as you join the industry.
Work your way up to your master's degree with flexible qualifications
If you're new to the world of project management, you can begin your studies with a Graduate Certificate of Project Management. This degree is made up of three units and can be completed in as little as six months, giving you a solid foundation in the field and preparing you for further study.
Upon completion, you can gain credit for your graduate certificate and study your Graduate Diploma and then your Master of Project Management, giving you more advanced skills and allowing you to build your portfolio as you enter the field.
Get ahead in your career with flexible study
Interested in how you can become a project manager without sacrificing your current employment? By completing your master's degree with ECU Online, you will be able to strengthen your career opportunities while you are on the job.
"Our courses are accessible, flexible and delivered in an accelerated format, 100 per cent online," says Hughes.
"Your study will fit into your busy schedule as you study one unit at a time over each seven-week study period. Ultimately, you graduate sooner compared to traditional part-time study options."
Take control with ECU Online. Learn more about our Master of Project Management.