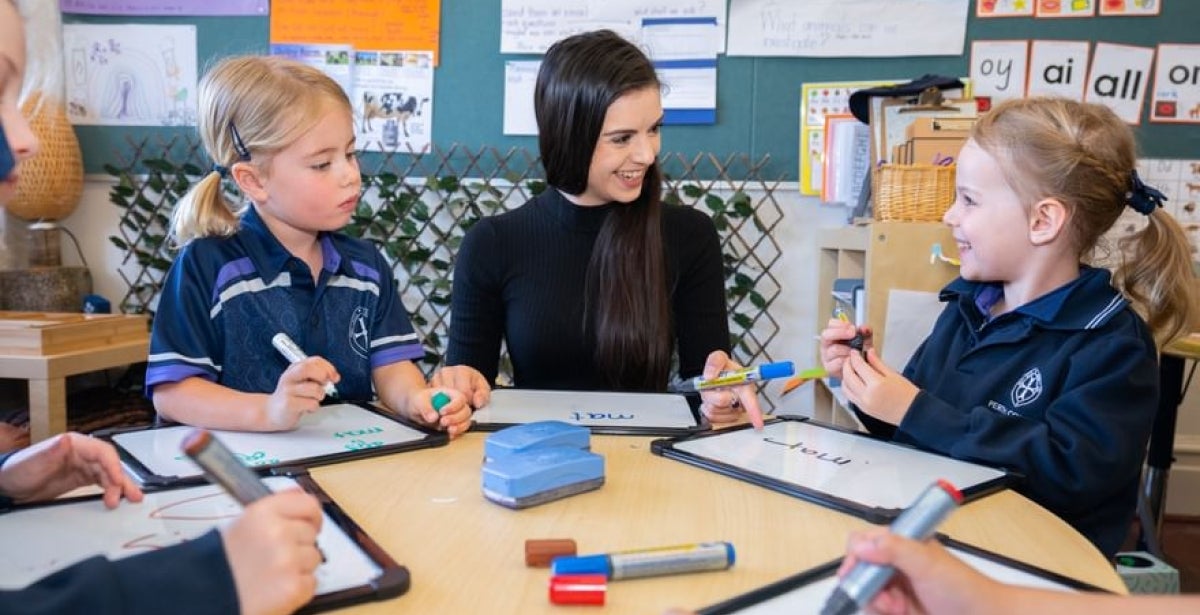 Career Opportunities in Early Childhood Education
If you work in early childhood education, you might be wondering where your career can take you.
If you want to deepen your understanding of early childhood pedagogy and expand your options, a postgraduate degree can open up new pathways and turn you into a leader in your field.
Studying a Master of Education certainly helped Catharine Hydon find a new direction. When she began her career as an early childhood teacher, she thought she'd found a job that she loved and could do until she retired. That was until she embarked on her postgraduate studies.
"Doing my masters in early childhood education is something that's incredibly helpful because it just broadened my horizons," says Hydon.
Hydon loved working in early childhood education and care services and could see her career opportunities expanding into areas where she could have even more impact.
"When you're doing your undergraduate work, you're trying to map out the fundamentals. When you get to do a master degree, it takes you deeper and I think it teaches you how to think more. I think those things are really very powerful and very useful."
With her master degree, Catharine Hydon became an early childhood consultant, working at a higher level to improve the learning environments of young people.
"The other thing that happens is you get to meet people who are like-minded," says Hydon.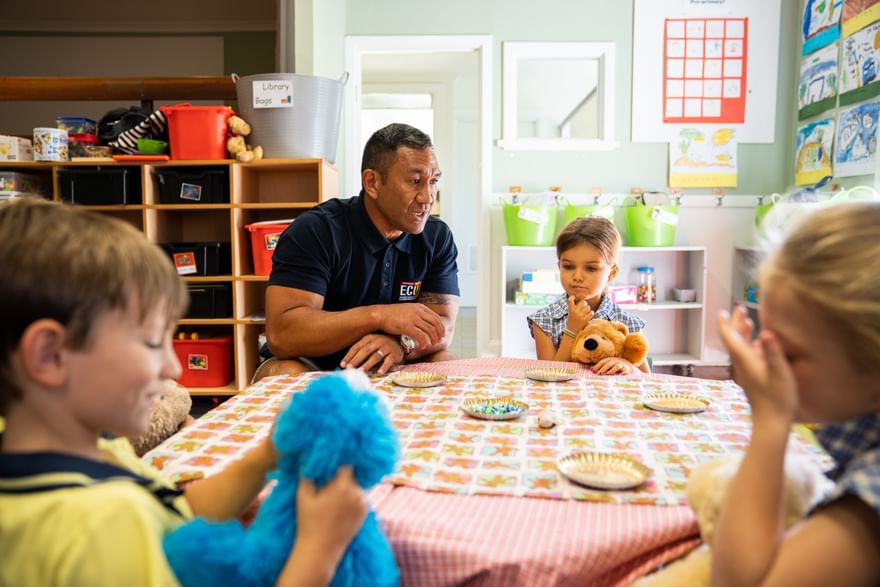 The outlook for early childhood education careers is strong
In the five years to 2019, the number of early childhood teachers in Australia grew from 27,000 to 42,300. Before the COVID-19 pandemic, the Labour Market Information Portal was predicting job opportunities to grow by another 16 per cent over the following five years.
Preschool teachers alone are currently overseeing the early learning education programs of 334,823 young children.
Early Childhood Educators and Early Childhood Teachers are not only increasing in number, but they're also expressing very high levels of job satisfaction.
In Victoria, substantial pay increases will be rolled out over the next four years. Full-time kindergarten teachers at the top pay tier will see their annual salary increase from $103,838 today, to $116,906 in 2024. It's part of the Victorian Government's goal to double the state's early childhood workforce by 2029.
While pay rises acknowledge the valuable role that early childhood educators play, ECU's academic coordinator of the 100% online Master of Education, Dr Pauline Roberts, points out that postgraduate qualifications offer much more.
"As a leader in Early Childhood Education, you're also an advocate for children and families. You can take on roles around policy development and curriculum development – roles outside the classroom where you can make change on a broader scope," says Dr Roberts.
"It's about being committed to improving the lives of children and their families. We know how much impact a good quality program in the early years can have on children in their ongoing education."
What kind of career opportunities are there in early childhood education?
Professional development in the form of ECU's Master of Education (Early Childhood Education) can expand your career options. It can give you the opportunity to consider roles such as an Educational Leader, Early Childhood Consultant or a Director of Children's Services.
A postgraduate degree in early childhood education can open up a wide variety of career paths including:
Educational Leader
Classroom Leader
Early Childhood Consultant
Director of Early Childhood Services
Kindergarten Improvement Advisor
Pedagogical Leader
Lecturer
Early Childhood Policy Advisor
Literacy and Numeracy Consultant
These roles require that deeper knowledge of pedagogy - the capability to improve outcomes in early childhood education. Below, we take a closer look at three of these roles and their responsibilities.
Upskill and become an Educational Leader
The Australian Children's Education & Care Quality Authority (ACECQA) describes the responsibilities of an Educational Leader as;
Providing curriculum direction and guidance to other educators,
Supporting educators in planning to enhance programs and practices,
Leading development and implementation of the educational program,
Aligning learning outcomes with approved learning frameworks.
Lori Farchione-Zappia is an early childhood teacher and Educational Leader who demonstrates a strong desire to make a positive difference in the development of children.
"I wanted to be a different kind of educator where I could support children's agency in learning and create a physical environment where learning captures children's interest, stimulates and invites children to wonder and create," says Farchione-Zappia.
"You need to be very passionate, dedicated and energetic about working with young children – the first years of a child's life is the critical time for their development," she adds.
"It can be very challenging and demanding, but very rewarding."
Embark on a career as an Early Childhood Consultant
The role of an Early Childhood Consultant varies and responsibilities can include:
Meeting with clients including educators, managers and teams,
Speaking at conferences or facilitating workshops,
Providing specialised advice on early childhood education in a range of settings,
Staying up-to-date with trends and policy changes in the early childhood sector,
Administrative and organisational tasks.
For many Early Childhood Consultants, this kind of career comes after accumulating a wealth of experience in the field.
"If you'd asked me when I was beginning as a teacher whether I would end up doing the type of work I'm doing, I would have said to you, 'No, I'm going to be an early childhood teacher forever'," says Hydon.
"The more you know about yourself as a professional, the more you realise where you're better suited. That's part of growing and maturing as a professional, to see 'where is the best fit for me?'"
With a Master of Education, Hydon realised she could end up in all sorts of different places.
"Choosing a path of professional learning and engagement has helped me to find my place so I can best contribute to this sector," says Hydon.
As an Early Childhood Consultant, Hydon is working with educational leaders in a wide variety of locations.
"What I can offer people is a way to translate theory and ideas into practice. So, I've got to make sure I keep connected with what's going on in the sector more broadly. That's something that I try and make sure to prioritise," says Hydon.
It's a role that also demands exceptional communication skills.
"I spend most of my day talking and thinking with my colleagues and imagining what's possible."

Lead the way as a Director of Early Childhood Services
In many ways, the role of Director of Early Childhood Services is a combination of the educational leader and early childhood consultant. Responsibilities in this role can include:
Overseeing curriculum and frameworks,
Managing budgets,
Leading teams.
According to ACECQA's National Education Leader, Rhonda Livingstone, this is possibly the most wide and varied role in early childhood education and care services.
"Drawing on my experience as an educator and director of early childhood services, I know that not one day in the life of an early childhood service is the same."
"I recognise it's necessary to have a strong body of knowledge to inform curriculum, decision making and our work with children and families," says Livingstone.
Because of the broad demands of this role, Livingstone recommends that directors hold higher education qualifications, whether they're working in early learning settings or with the Department of Education.
"While having qualifications is not the only contributor to the effective delivery of programs, it provides educators with a strong foundation from which to make curriculum decisions and support children and families."
Apply pedagogy in your early childhood career
According to ECU academics Dr Elizabeth Stamopoulos and Associate Professor Lennie Barblett, pedagogy is the "art, craft and science of teaching". It encompasses the theory and frameworks of all curriculum elements that impact the classroom.
Whether you're a director, consultant, classroom leader or any other form of early childhood educator with an understanding of pedagogy, you have an opportunity to demonstrate leadership and create positive outcomes for young children.
Researchers recently observed 100 young children participating in a pedagogical shift to narrative-based, role-playing activities called Playworlds. Four-year-old civil engineers took over the sandpit to solve problems in their new roles.
By combining play and challenging tasks, the children improved their abilities in planning, memorising and focusing on a goal.
On the other side of the coin, there can be an impact on childhood development when pedagogy slips.
ECU's School of Education researchers observed educators reading with 3 and 4-year-old children at four early learning centres in Western Australia. They found children at centres in lower socioeconomic areas spent 44 per cent less time reading with educators.
Lead researcher Dr Helen Adam said these results were a real concern.
"It is important for all children to have large amounts of quality reading time with educators to promote literacy and language skills as they enter school," she said.
Demonstrating your knowledge of pedagogy is not only important in taking the next step in your career, but it can also have an even greater impact on the children in your class and ability to engage with students more effectively.
A postgraduate degree in Early Childhood Education can help you reach your career goals
ECU's accelerated and 100 per cent online Master of Education (Early Childhood Education) fits study around your life and work commitments. With six study periods each year, you can achieve your Master of Education in as little as 16 months.
With over 100 years of experience at the forefront of teacher education, ECU has designed the Master of Education (Early Childhood Education) with a focus on leading early childhood pedagogy and practice.
In addition to deepening your knowledge and understanding of pedagogy, studying your masters is an opportunity to extend your professional network.
"Many people I see have found postgraduate qualification very empowering. It's hard work and not for the faint-hearted but it's been transformative," says Hydon.
"I've met some amazing people doing my masters who've become life-long friends. They've become very important in my career. I don't think I would have met them had I not done further studies."
"There's no way I could do what I do without those professional relationships because they are critically important to me. They help me figure out who I am and what I stand for and I am indebted to them."
Take your career as an early childhood educator to the next level. Whether you want to be able to apply the latest pedagogy to your current practice or take on a new role in the field of Early Childhood Education, a Master of Education (Early Childhood Education) will help you achieve your goals. Contact our enrolment team on 1300 707 760 to find out more.